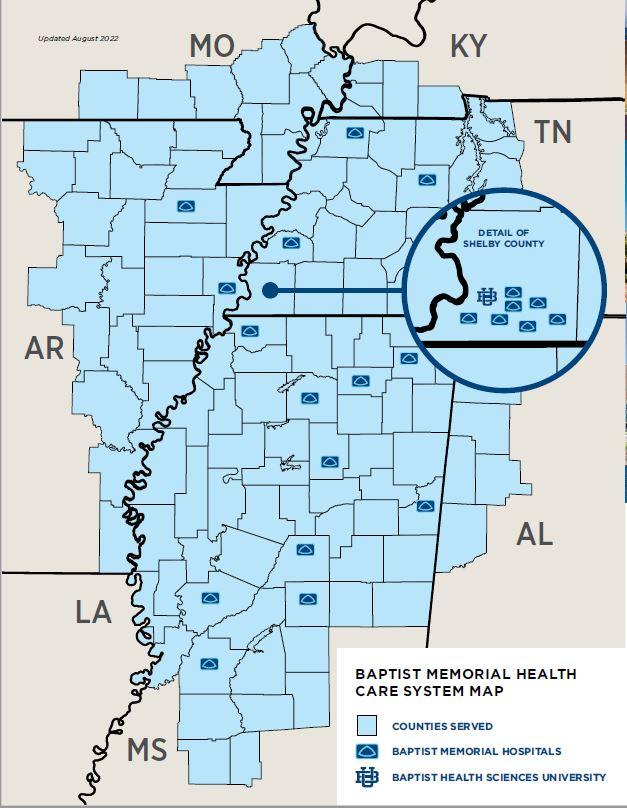 The College of Osteopathic Medicine is part of the Baptist Memorial Health Care (BMHC) system which is one of the largest health care systems and the largest provider of Medicaid in the region. Baptist offers a full continuum of care to communities throughout the Mid-South and consistently ranks among the top integrated health care networks in the nation. The health care system comprises 22 affiliate hospitals in West Tennessee, Mississippi, and East Arkansas; more than 5,400 affiliated physicians; Baptist Medical Group, a multispecialty physician group with more than 800 providers; home, hospice, and psychiatric care; minor medical centers and clinics; a network of surgery, rehabilitation, and other outpatient centers. These resources will provide well-rounded and diverse clinical training experiences. Primary hospital assignments are determined through a selection process in year two of medical school (OMS-2). Students will complete the majority of their OMS-3 and OMS-4 clinical rotations within Baptist's system.
BAPTIST MEMORIAL HEALTH CARE
As one of the largest, faith-based health care systems in the nation, Baptist Memorial Health Care (BMHC) is embedded in the mission and success of the proposed BUCOM. Baptist has invested its resources and expertise to launch the proposed BUCOM, and has firmly established entities to provide enhanced support, education, and opportunities for its students. Baptist Clinical Research Institute will be the proposed BUCOM's system affiliate and partner in achieving our primary research initiatives. Baptist Medical Group will be the proposed BUCOM's system affiliate and partner in developing clinics. Baptist Memorial Medical Education department will serve as the proposed BUCOM's system affiliate and partner in achieving our Graduate Medical Education (GME) initiatives.
Baptist's potential as a partner in a shared goal of building a strong, viable, influential College of Osteopathic Medicine cannot be overstated, as both will be guided by Baptist's mission: In keeping with the three-fold ministry of Christ —Healing, Preaching and Teaching — Baptist is committed to providing quality health care.