Program Overview
Join one of the country's fastest growing fields.
Medical laboratory scientists play a vital role in the detection, diagnosis and treatment of disease. The Bureau of Labor Statistics states that employment opportunities for medical laboratory scientists are expected to exceed most occupations through the next decade.
Medical laboratory science professionals, often called medical laboratorians, are vital health care detectives, uncovering and
providing information from laboratory analyses that assist physicians in patient diagnosis and treatment, as well as in disease monitoring or prevention. In addition to performing and evaluating laboratory procedures, the medical laboratory scientist may also be involved in developing new diagnostic procedures, supervising and conducting biomedical research, providing technical expertise, consulting, teaching, and/or analyzing and implementing laboratory information systems.
MLT to BHS COMPLETION DEGREE
For the Practicing Technician
The MLT to BHS program is designed for licensed medical laboratory technicians who wish to pursue a Bachelor of Health Science in Medical Laboratory Science and want to advance their education. Graduates of the medical laboratory science program will qualify for employment in a variety of settings such as education, supervision, or management positions, and technical consultants.
TRADITIONAL PROGRAM
Earn Bachelor's Degree in Medical Laboratory Science
Students are encouraged to follow a specific curriculum plan to ensure progressive learning throughout the degree. Specific courses are required to be completed in sequential order to enhance the student's learning and success within the program.
A complete listing of course requirements for the MLS program can be reviewed by selecting the following link.
APPLYING TO THE PROGRAM
To be considered for selection to the Medical Laboratory Science program, applicants must meet the following minimum requirements:
Complete 24 credit hours of preprogram coursework with a "C" or better, as specified by the MLS program (courses marked with an "asterisk" in the degree requirements must be completed in the required 24 credit hours and prior to taking courses in the professional program.)
Students will be required to complete all preprogram courses, specified by the MLS program, prior to enrollment into professional MLS courses.
Achieve a minimum cumulative college GPA of 2.7 on a 4.0 scale.
Submit completed application form to the MLS program. The forms are required to be submitted prior to the applicable application date (October 1 or March 1).
Class size is limited and the selection process is competitive. Academic performance and a general understanding of the MLS profession are strongly considered during the selection process.
All completed applications and supportive documentation must be received or postmarked by the published deadlines to be considered for selection to begin the MLS professional course work in the Fall Trimester of the following year. The deadline for early selection of a limited number of class seats is October 1. The deadline for final selection to the program is March 1.
Selection process:
A selection committee for the MLS program will evaluate all completed applications in October and March each year. Applicants with a strong academic background and currently enrolled in Baptist University, or completing pre-program courses at institutions with collaborative or articulation agreements, will be given priority for interviews. Applicants meeting minimum selection criteria are not guaranteed an interview.
Selection to the MLS program is based on the following:
Academic potential for success from the academic record.
Academic strength in previous college coursework, with specific attention given to performance in the pre-program courses.
Personal strengths and knowledge of Medical Laboratory Science program.
Past failures affecting cumulative college GPA and pre-program courses may impact selection into the program. Each file will be considered individually.
A personal interview will be required of each applicant. Applicants will be notified in writing of selection to the MLS program.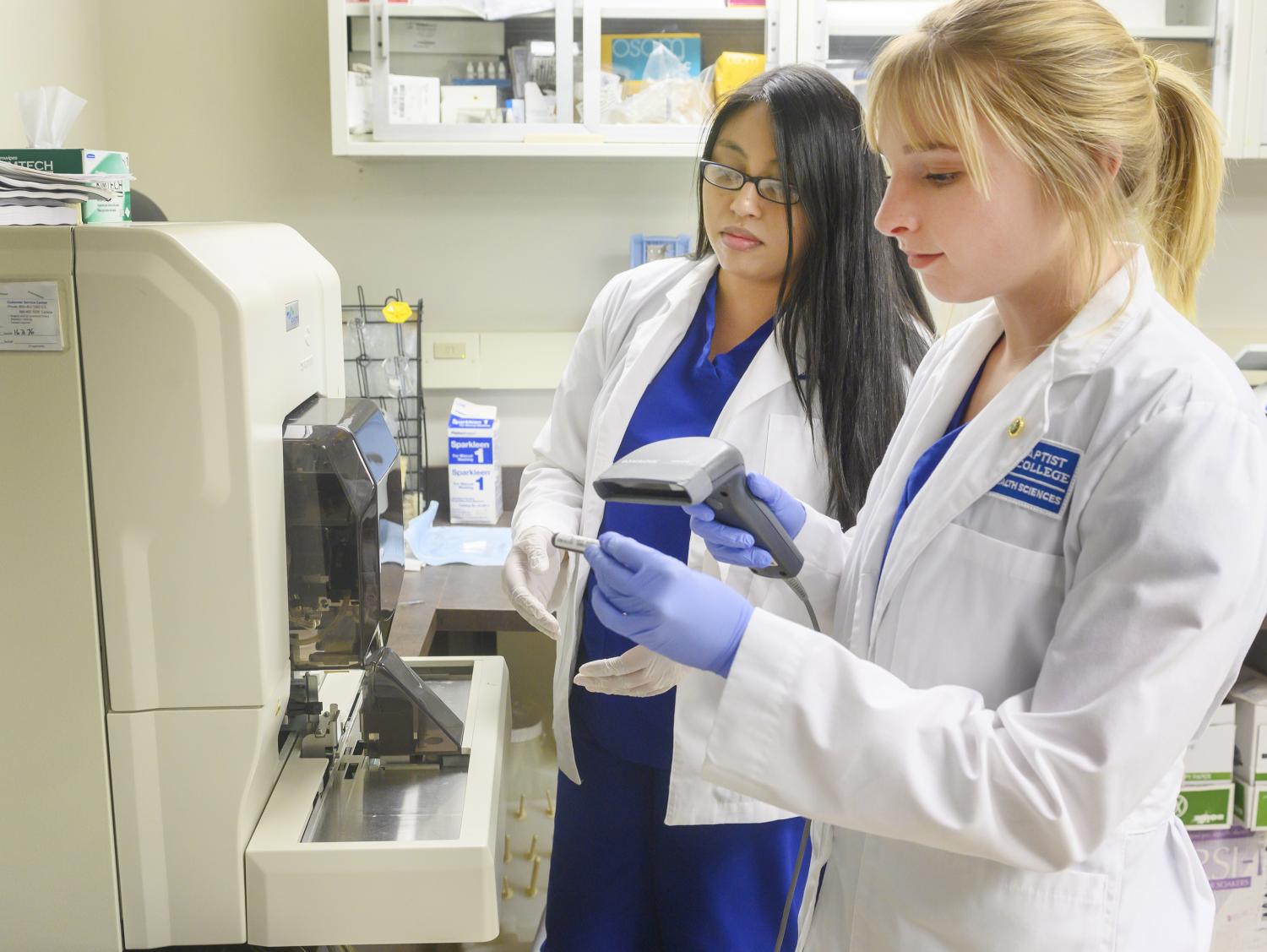 ONE OF THE COUNTRY'S FASTEST GROWING FIELDS

STUDENT CENTERED WITH SMALL CLASSROOMS

IN-CLASS INSTRUCTION, LABORATORY EXPERIENCE & CLINICAL PRACTICUM EXPERIENCE
$54,184 Median Salary
U.S. Bureau of Labor Statistics for Clinical Laboratory Technologists 
100%
Graduation Rate
Graduating Class of December 2022
100%
Placement Rate
Graduating Class of December 2022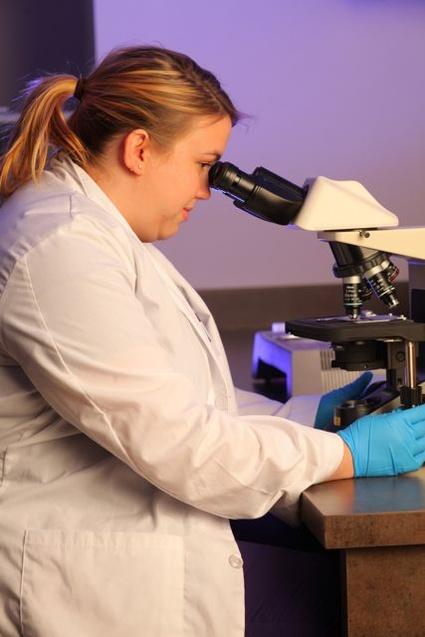 Career Opportunities
Medical Laboratory Scientists

In hospital labs and clinics, forensic labs, veterinary clinics, industrial research labs, and molecular biotechnology labs
Mission
The medical laboratory science (MLS) program mission is to provide:
Exemplary laboratory education.
Instruction necessary to educate individuals to become skilled, caring health care practitioners who value lifelong learning.
Scholarly activity through practice-based research.
Positive impact on the health status of the community through service.
In accordance with the mission of the Baptist University, educational experiences in the MLS program reflect the importance of a strong general educational foundation and include opportunities for critical thinking, use of technology, effective communication, skills, and the ability to work effectively with others.
Program Goals
Maintain a nationally accredited program in medical laboratory science.
Implement and promote the rules and regulations of the State of Tennessee Medical Laboratory Board for training programs for medical laboratory personnel.
Design and implement a curriculum whereby upon completion of the program the students demonstrate the entry-level competencies to gain employment in the MLS or related laboratory field.
Provide a program to prepare well-trained laboratory professionals who will be eligible to sit for the national certification examinations.
Display a commitment to the role and the development of the medical laboratory professional.
Develop in the students the necessary interpersonal and communication skills to professionally interact with patients, patients' families, physicians, and other members of the health care team
Program Learning Outcomes
Upon completion of their course of study, graduates of the medical laboratory science program will:
Perform the full range of clinical laboratory tests in the diagnostic areas appropriate for entry level practice.
Demonstrate appropriate communication skills, education techniques and a commitment to professionalism.
Evaluate validity of laboratory test results and take appropriate corrective action.
Demonstrate an understanding of safety regulations and standard precautions.
Program Accreditation
NAACLS (National Accrediting Agency for Clinical Laboratory Sciences)
The MLS program at Baptist Health Sciences University is accredited by NAACLS.
NAACLS contact information
5600 North River Road, Suite 720
Rosemont, IL 60018
773-714-8880
Tennessee State Licensure Requirement
All medical laboratory personnel and special analysts in Tennessee must hold current Tennessee licensure, unless specifically exempt by statute or rules promulgated by the Tennessee Medical Laboratory Board.
The MLS program at Baptist Health Sciences University has been granted a certificate by the Tennessee Department of Health to conduct and maintain a school for training medical laboratory personnel in the specialty of medical laboratory technologist, general.
Medical Laboratory Board
Metro Center Complex
665 Mainstream Drive
Nashville, TN 37423
Additional requirements for licensure may be required by the state in which you practice.
ADVISORY BOARD
CLINICAL SITES
CLINICAL HANDBOOK
TECHNICAL STANDARDS
The following technical standards outline reasonable expectations of a student enrolled in the Medical Laboratory Science program for the performance of common clinical functions.*
Communication
Ability to communicate with a wide variety of people and the ability to be easily understood. Reading, writing, recording, and documenting patient information required.
Analytical Skills/Critical Thinking
Analytical skills sufficient to process information, to transfer knowledge from one situation to another, and to prioritize tasks. Critical thinking ability sufficient for safe, clinical judgment.
Hearing                                                                                                                  
Auditory ability sufficient to monitor and assess patient needs, to detect and respond to alarms, emergency signals, and cries for help.
Vision
Visual ability sufficient for observation and assessment necessary for the care of patients and operation of equipment.
Tactile
Tactile ability sufficient for patient assessment and operation of equipment.
Mobility
Physical ability, flexibility, strength, and stamina sufficient to provide safe and effective care.
Fine Motor Skills
Fine motor ability sufficient to provide safe and effective care.
Behavioral
Emotional and mental health sufficient to establish therapeutic boundaries, to perform multiple tasks concurrently, to handle strong emotions, and to work effectively in a fast-paced environment.
*Students who have accessibility questions or who need accommodations should contact the Section 504/ADA Coordinator, Room 101, Science Building, at 901-572-2570 or by sending an email to Disability.Accomodations@baptistu.edu.