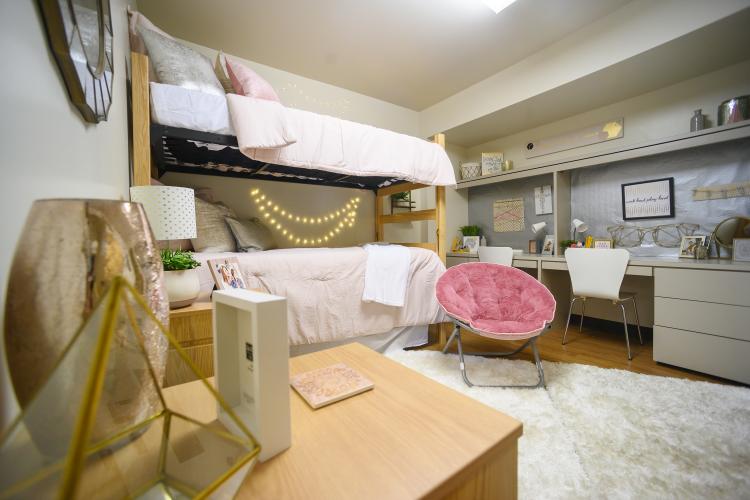 Feel Right at Home
Living on campus makes it easy for students to take full advantage of the Campus Hub's close proximity to academic buildings and many amenities. Conveniently located in the main campus building, on-campus housing is safe, convenient, and affordable! Our Residence Hall provides a supportive and energetic environment for unmarried Baptist University students to learn, grow, and relax.

Residential students thrive by living in community with other Baptist students! Relax and have fun with other on-campus students by playing games or watching TV in the Student Lounge, relaxing by the pool, playing basketball or playing volleyball in the gym. Residents can maximize their access to study resources in the Health Sciences Library and take advantage of the computer labs, study rooms, and tutoring services without a commute. Campus life is active and campus housing makes it easier to participate in events designed especially for you. Living in the heart of the Memphis Medical District brings you close to many of Memphis's best offerings: sporting events, concerts, museums, great parks, the Mississippi River, beautiful murals, and famous local restaurants. There is so much to do at Baptist University, you are sure to feel right at home!

As a member of our on-campus community, you will have the unique ability to connect with your peers and receive support from Residence Life staff. Get connected to the Blue Healer community and apply for Campus Housing!​​
Apply for Campus Housing using your Baptist University login on MyCampus. You should complete the application only after you have been accepted to Baptist University. The final step in the housing application submission process of our Housing Application requires a $100 non-refundable housing application fee.
Campus Housing - Spring 2021 Update
Campus housing remains closed for Spring 2021. The University will continue to monitor the COVID-19 situation in our community. A decision concerning reopening campus housing will be announced via campus email and on the website.  We will return to accepting applications for housing once an official decision concerning reopening campus housing is finalized. We thank you for your patience during this difficult time.