Program Overview
Bachelor's Degree
Associate Degree
As part of the health care team, neurodiagnostic technologists record electrical activity arising from the brain, spinal cord, and peripheral nerves using a variety of techniques and instruments. This involves preparing patients for procedures, obtaining medical histories, recording electrical potentials, calculating results, and maintaining equipment. 
If you are a science and technology oriented individual who likes to work with people and who are looking for a challenging career in a health care field, neurodiagnostic technology may be the allied health field for you.
The most common procedures that neurodiagnostic technologists perform are the electroencephalogram, long term monitoring, intraoperative neuromonitoring, the polysomnogram, evoked potential studies, and nerve conduction studies. The electroencephalogram [EEG] is the most frequently performed procedure.
$61,000 Median Salary
ASET Salary Survey for Neurodiagnostic Technologists
Bachelor Degree
The Baptist University bachelor's degree in Neurodiagnostic Technology is an online degree program that is perfect for both the full-time student and the working technologist who would like to advance their career with additional skills. The bachelor's degree provides foundational courses in physics, statistics, pathophysiology, and advanced neuroanatomy. It incorporates new technologies such as magnetoencephalography (MEG) and autonomic testing. It includes courses in long-term monitoring, neuroimaging, an introduction to neuropsychology and a capstone project focused on the special interest of the student.
Associate Degree
At the Neurodiagnostics Technology Associate of Science Degree program at Baptist University, graduates receive comprehensive training in electroencephalography (EEG). Other modalities including Evoked Potentials, Polysomnography, Nerve Conduction Studies, Long Term Monitoring and Intraoperative Neuromonitoring are introduced. 
Frequently Asked Questions
Have a few questions about the neurodiagnostic program? Click the button below to view a list of frequently asked questions.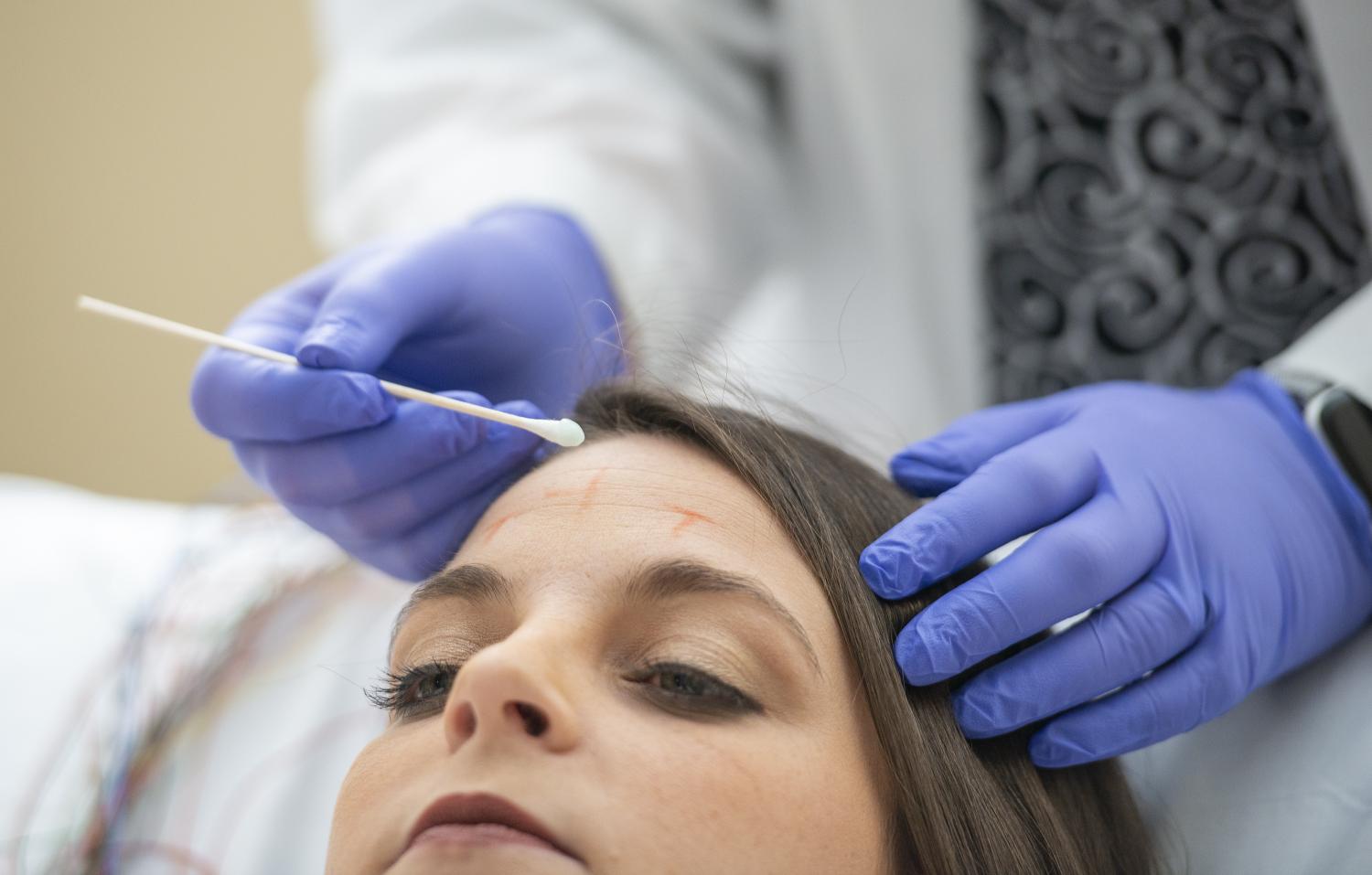 Program Outcomes
90%
Job Placement Rate
2021 Cohort
100%
Employer and Student Satisfaction
2021 Cohort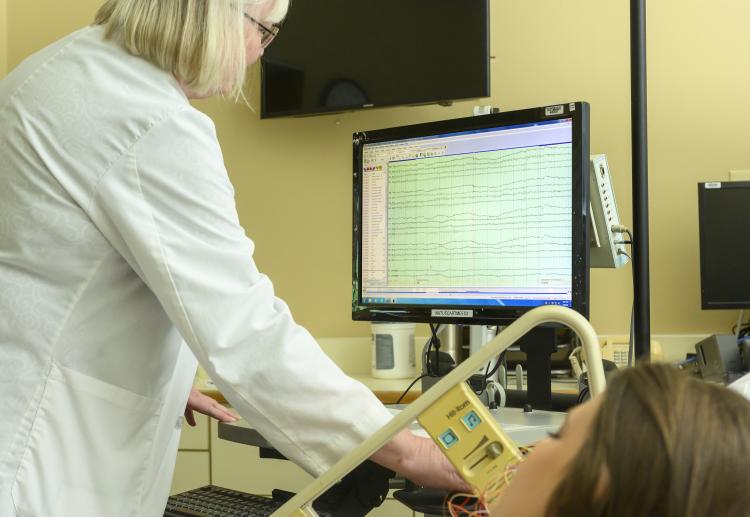 Job Opportunities
Where to work

hospitals, physicians' offices, and clinics

Job Titles

Neurodiagnostic technologists may move up the career ladder to become a Long-term Monitoring Technologist, Intraoperative Monitoring Technologist, Lead-Technologist, or Neurodiagnostics Department Manager

Job Openings

According to the American Job Center's 2017 data, an estimated 128,000 Neurodiagnostic technologists were working in 2016, and job growth for NDT technologists was projected to be faster than average at 15% or higher, with projected new job openings of 11,000 in the decade of 2016 to 2026 (American Job Center, 2017).

Hiring

In the 2015 ASET Salary and Benefit Survey 22% of labs reporting stated they plan to expand services and hire more staff.
PROGRAM ACCREDITATION
The Neurodiagnostic Technology program at Baptist Health Sciences University is accredited by the Commission on Accreditation of Allied
Health Education Programs (www.caahep.org) upon the recommendation of the Committee on Accreditation for Education in Neurodiagnostic Technology (CoA-NDT)  9355 - 113th St. N, #7709, Seminole, FL 33775. 727-210-2350.
Learning Outcomes
Program Learning Outcomes
Upon completion of the neurodiagnostic technology associate degree program, the graduate will:
Function as a knowledgeable entry-level neurodiagnostic technologist.
Demonstrate proficiency in performing basic neurodiagnostic testing.
Exhibit behavior skills that reflect professionalism, appropriate clinical reasoning, effective communication and time management skills.
Recognize the importance of maintaining current practices based on relevant neurodiagnostic research, standards and guidelines.
Program Mission
The mission of the Baptist College Neurodiagnostic Technology (NDT) program is to prepare competent entry-level neurodiagnostic technologists in the cognitive (knowledge), psychomotor (skills), and affective (behavior) learning domains.
Technical Standards
Technical Standards for Matriculation, Retention, and Graduation for Neurodiagnostic Technology
The Neurodiagnostic Technology Associate's and Bachelor's degree from the Baptist Health Sciences University indicates the holder is a technologist who is prepared to enter into supervised practice in neurodiagnostic technology. Therefore, all applicants and matriculated students must possess certain essential abilities and characteristics required for completion of the AS or BHS degree that consist of certain minimum physical and cognitive abilities and emotional characteristics. This is to ensure that candidates for admission, matriculation, and graduation are able to complete the entire course of study and participate fully in all aspects of training, with or without reasonable accommodations.
To be qualified for the performance of neurodiagnostic technology, future training, and subsequent credentialing exams, the candidate must demonstrate competency in five requisite areas: observation and sensory; communication; motor; intellectual-conceptual; and behavioral and social attributes. Students are required to demonstrate said competencies to provide safe and effective neurodiagnostic care in outpatient clinic and hospital environments.
Baptist Health Sciences University is committed to the admission and matriculation of qualified students and does not discriminate based on race, color, ethnicity, sex, gender, marital status, national or ethnic origin, age, disability, creed, or religion. Candidates with disabilities can request reasonable accommodations if needed to meet these technical standards by following the University's policies and procedures and contacting the Office for Disability Services. A candidate must be able to perform these outlined technical standards in an independent manner.
The national board examinations for neurodiagnostic technology may have more stringent technical standards than outlined in this document.
Students who accept an offer of admission from Baptist University's Neurodiagnostic Technology program will be required to sign an affirmation regarding compliance with the technical standards. Should a student's ability to meet the technical standards change at any point in the academic program, it is his/her responsibility to report this to the Program Chair and Office of Disability Services.
Observation and Sensory
Candidates must be able to acquire a defined level of clinical skills and information in neurodiagnostic science. Candidates and students must be able to obtain information from online course content, intensive laboratory practice and clinical site experiential learning. Students must be able to plan and perform basic neurodiagnostic procedures, troubleshoot technical issues, identify and eliminate artifactual data, identify patterns, provide assistance to the patient when needed, communicate and collaborate with other medical professionals. The observation and information acquisition noted above will require candidates to have functional use of visual, auditory and touch sensations or the functional equivalent. Students must be able to perform visual assessment of neurodiagnostic data.
Communication
A candidate must be able to communicate effectively and efficiently, and to observe patients in order to elicit information, detect and describe changes in mood, activity, and posture; perceive nonverbal communications; and establish a professional relationship. A candidate must be able to respectfully communicate effectively, efficiently and sensitively with patients, their families, faculty, peers and all other members of the health care team. Communication includes speech, reading and writing or the functional equivalent.
Motor
Candidates must, after a reasonable period of training, possess the capacity to assist patient in positioning (lifting or transferring patients), apply appropriately placed recording or stimulating electrodes, operate neurodiagnostic instruments appropriately, perform necessary clean up and system maintenance. They must be able to respond to clinical situations in a timely manner, communicate with emergency responders, and initiate BLS/CPR if needed. These activities require some physical mobility, coordination of both gross and fine motor neuromuscular function, equilibrium, and functional use of the senses of touch and vision or the functional equivalent.
 Intellectual - Conceptual
Candidates must possess proficient measurement, calculation, reasoning, problem solving, and analysis skills. They must have the intellectual capability to increase their fund of information and knowledge base through various media as well as from online course materials, recorded lectures, current literature and journals; and to make use of clinical experiential learning during their clinical site rotations. Neurodiagnostic technologists must demonstrate professional integrity, compassion, interpersonal skills, and a commitment to strict adherence to ABRET standards and ACNS guidelines.
Behavioral and Social Attributes
Students must exercise good judgment and act professionally, complete all responsibilities promptly and effectively, while maintaining mature, sensitive, caring relationships with patients. Students must be able to function effectively under stressful conditions, and adapt to changing environments. Compassion, integrity, empathy, interpersonal skills, interest, and motivation are all personal qualities that will be assessed during the educational process. Students must display flexibility and a spirit of cooperation with faculty, classmates, and colleagues. Candidates must be able to serve (in an appropriate manner), all persons in need of assistance, regardless of the person's age, class, race, ethnicity, religious affiliation (or lack thereof), gender identification, ability, sexual orientation, and value system.
 Reasonable Accommodations for Students with Disabilities
In accordance with the Americans with Disabilities Act (ADA), Section 504 of the Rehabilitation Act, and other applicable laws, Baptist Health Sciences University provides reasonable accommodations for otherwise qualified students with verified disabilities. An accommodation will not be provided if it would result in the fundamental alteration of the university's programs, services or activities, or if it would impose undue financial or administrative burdens on the University.
 Additional information about Baptist Health Sciences University's Office of Disability Services may be found at https://www.baptistu.edu. If student circumstances should change related to these technical standards, the student will promptly notify the Program Chair and Office of Disability Services if reasonable accommodations are required at any point.
ABRET Recognized Program
ABRET is the credentialing organization for most neurodiagnostic testing modalities. ABRET recognizes the BHSU Neurodiagnostic Technology program which allows our graduates to take the ABRET EEG Registry exam after completion of 100 EEG recordings and 500 hrs of clinical experience. For more information: www.abret.org.