Program Overview
Bachelor's Degree
RT(R) Pathway
The nuclear medicine technologist is a highly specialized health care professional who works closely with nuclear medicine physicians, radiologists, oncologists, and cardiologists. Technologists administer the radioactive pharmaceuticals to patients and use specialized equipment to obtain images of the distribution of the radioactive pharmaceutical in the body. This imaging technique provides information about both the structure and function of virtually every major organ system in the body. 
An exciting aspect of the nuclear medicine professional curriculum is that students not only gain knowledge in general nuclear medicine, students also have the opportunities to study specialty areas such as positron emission tomography (PET), nuclear pharmacy, nuclear cardiology, and computed tomography (CT). Courses are taught in classroom and laboratory environments where student can participate in individual and small group learning activities. Students gain clinical experience in a laboratory on campus and in nuclear medicine and radiology departments of hospitals and specialty clinics.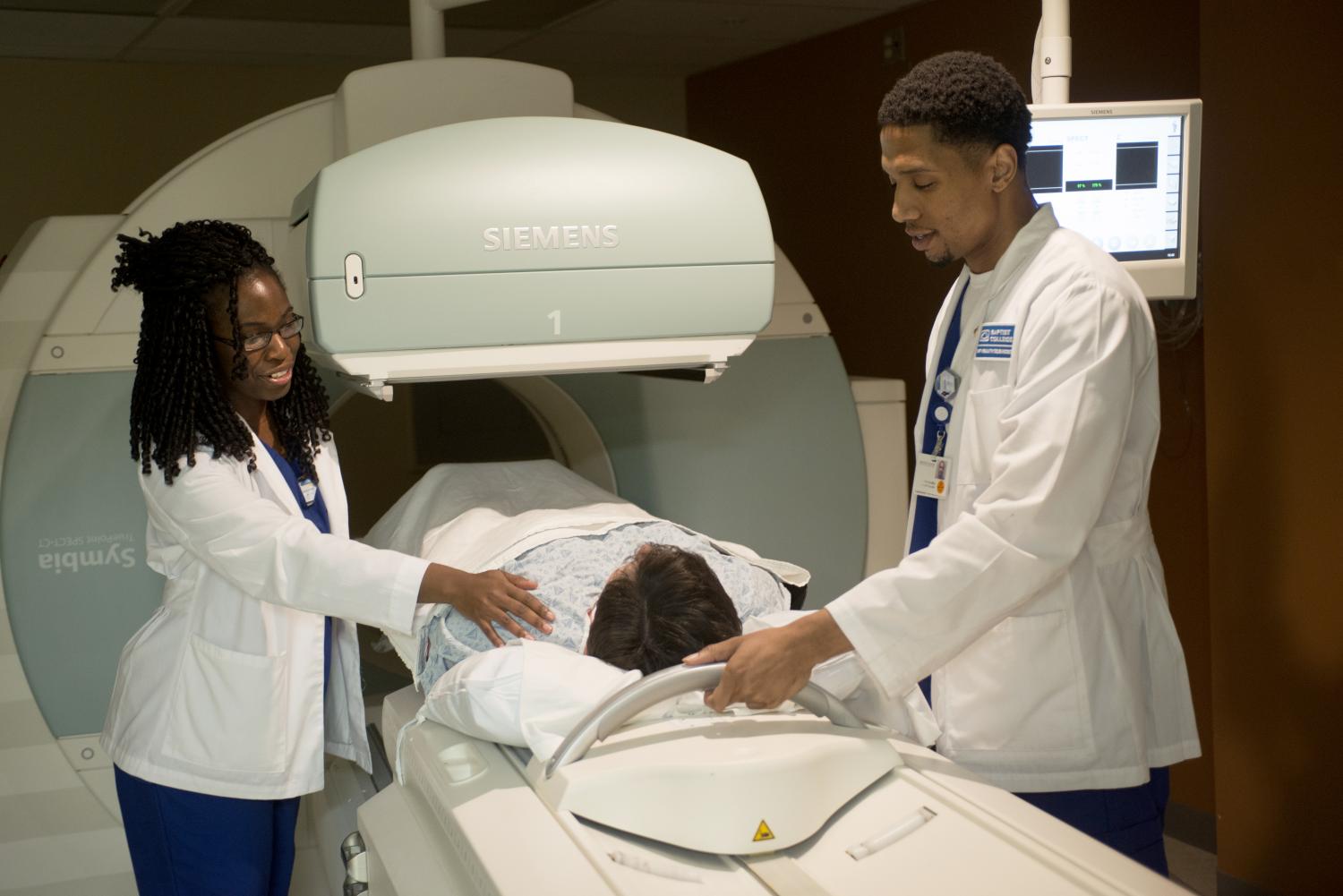 Why Choose Nuclear Medicine Technology at Baptist University?
Relationship with Baptist Memorial Health Care System

Classroom, laboratory, and Clinical Experiences

Clinical practicum courses

include clinical experience in all routine imaging procedures, pediatrics, nuclear equipment quality control, nuclear pharmacy, PET/CT, CT and nuclear cardiology
$79,601 Median Salary
U.S. Bureau of Labor Statistics for Nuclear Medicine Technologists
GRADUATE ACHIEVEMENT DATA
100%
Graduation Rate
2023 Graduation Class
100%
NMTCB examination pass rate
2023 Graduation Class
100%
Job Placement Rates Six Months Post Graduation
For the past 10 years.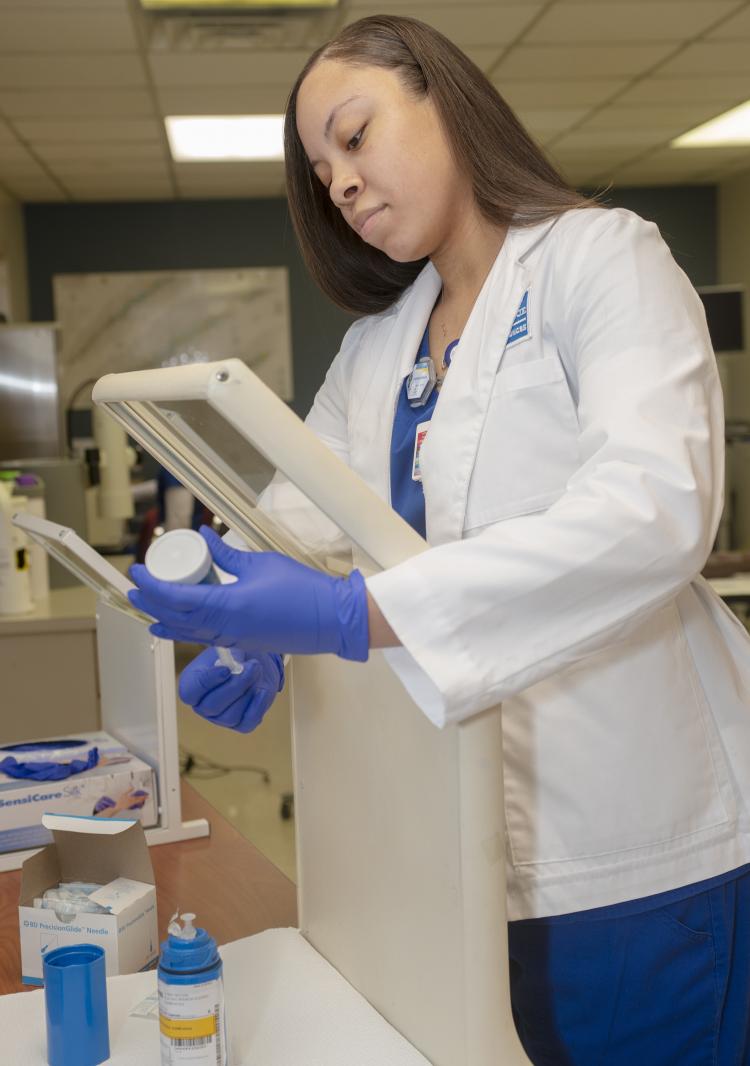 Technologists' Primary Responsibilities
Obtaining and critically analyzing patient history

Monitoring patients' physical conditions during procedures

Preparing and administering radioactive chemical compounds, known as radiopharmaceuticals

Labeling biologic specimens with radioactivity

Performing patient studies including imaging and therapeutic procedures

Processing images using computer enhancement techniques

Evaluating images to determine technical quality

Providing images, quantitative data analysis and patient information to physicians for diagnostic interpretation
Program Learning Outcomes
Upon completion of the NMT program, the graduate will be able to:
Function as a knowledgeable entry-level nuclear medicine technologist.
Exercise independent judgment and critical thinking skills in the technical performance of nuclear medicine procedure.
Model attitudes reflecting professionalism, including effective communication skills, ethical care, and compassionate care.
Mission
The nuclear medicine technology (NMT) degree program of Baptist University will prepare competent entry-level nuclear medicine technologists to provide responsive, quality care, and service.
Program Accreditation
The NMT program is accredited by the Joint Review Committee on Educational Programs in Nuclear Medicine Technology (JRCNMT). The contact information for the JRCNMT is 820 W. Danforth Road, #B1, Edmond, OK, 73003, 405-285-0546, www.jrcnmt.org. The JRCNMT holds recognition from the Council for Higher Education Accreditation (CHEA).
Professional Credentials
Students successfully completing all nuclear medicine degree requirements will receive a bachelor of health sciences (BHS) degree, with a major in nuclear medicine technology. Upon successful completion of degree requirements, students can become candidates to sit for the Nuclear Medicine Technology Certification Board (NMTCB) examination to earn credentials as a certified nuclear medicine technologist (CNMT) or the American Registry of Radiologic Technologists (ARRT) nuclear medicine technology certification examination to earn the ARRT(N) credential. Upon earning credentials as a nuclear medicine technologist by either of these credentialing agencies, graduates who have successfully completed the required Computed Tomography (CT) clinical competencies are also candidates for the ARRT (CT) registry. Graduates who have completed the required CT clinical hours and competencies are candidates for the NMTCB(CT) certification exam. Additional requirements for licensure may be required by the state in which you practice.
TECHNICAL STANDARDS
Technical Standards for Matriculation, Retention, and Graduation for Nuclear Medicine Technology
The Bachelor of Health Science (BHS) degree with a major in Nuclear Medicine Technology (NMT) from Baptist Health Sciences University (BHSU) indicates the holder is prepared to function as a competent entry-level nuclear medicine technologist. All applicants and matriculated students possess certain essential abilities and characteristics required for completion of the Nuclear Medicine Technology (NMT) program that consist of certain minimum physical and cognitive abilities and emotional characteristics.  This is to ensure that candidates for admission, matriculation, and graduation are able to complete the entire course of study and participate fully in all aspects of nuclear medicine technology training, with or without reasonable accommodations. The NMT program has established technical standards, which outline the essential abilities and characteristics required for the completion of the program.
Baptist Health Sciences University's Nuclear Medicine Technology program is committed to the admission and matriculation of qualified students and does not discriminate based on race, color, ethnicity, sex, gender, marital status, national or ethnic origin, age, disability, creed, or religion. Candidates with disabilities can request reasonable accommodations if needed to meet these technical standards by following the University's policies and procedures and contacting the Office for Disability Services. A candidate must be able to perform these outlined technical standards in an independent manner.
The national board examinations for nuclear medicine technology may have more stringent technical standards than outlined in this document.
Students who accept an offer of admission from Baptist Health Sciences University will be required to sign an affirmation regarding compliance with the technical standards. Should a student's ability to meet the technical standards change at any point in the academic program, it is the student's responsibility to report this to the Program Chair and Office of Disability Services.
Motor Skills
Student must be able to perform gross motor skills such as help lift or transfer patients, manipulate and/or move heavy nuclear medicine equipment, and perform delicate, detained, and difficult manipulative tasks such as venipuncture. 
Mobility
Student must be able to stand or sit for extended periods of time.  Student must be able to move from room to room and maneuver in small areas. Students must be able to reach and manipulate equipment to its highest point (6 feet).
Vision
Student vision must be sufficient for observation and assessment necessary for the care of patients and operation of equipment. Student must be able to see and distinguish black, white, and various color combinations on display devices and recorded images, allowing them to distinguish subtle changes in image detail.
Hearing
Student auditory ability should allow for detection of audible alarms and background sounds during procedures to ensure patient/staff safety.  Student auditory capabilities should allow them to hear patient requests, monitoring devices, and instructions from staff or physicians made in a normal voice.
Communication
Student must be able to express, comprehend, and exchange information in English through written and verbal communication.
Intellectual
Student must have the ability to make clinical judgement using critical thinking.  Student must be able to utilize electronic technology in didactic, laboratory, and clinical environment.
Behavioral and Social
Student must have the emotional maturity and stability to approach a highly stressful human situation in a calm and rational manner.  Students are expected to exhibit integrity, honesty, professionalism, compassion, and display a spirit of cooperation and teamwork.
Reasonable Accommodations for Students with Disabilities
In accordance with the Americans with Disabilities Act (ADA), Section 504 of the Rehabilitation Act, and other applicable laws, Baptist University provides reasonable accommodations for otherwise qualified students with verified disabilities. An accommodation will not be provided if it would result in the fundamental alteration of the university's programs, services or activities, or if it would impose undue financial or administrative burdens on the University.
Additional information about Baptist Health Sciences University's Office of Disability Services may be found at https://www.baptistu.edu. If student circumstances should change related to these technical standards, the student will promptly notify the Program Chair and Office of Disability Services if reasonable accommodations are required at any point.