Program Overview
Bachelor's Degree
RT(R) to BHS Completion Program
Radiation therapists treat tumors with high-energy radiation beams. They require not only great technical and scientific expertise, but also the ability to treat cancer patients with great compassion and empathy. All of these skills are addressed in Baptist University's well-rounded Radiation Therapy program. You'll develop the scientific knowledge, habits, demeanor, and commitment that distinguish standout radiation therapists. Build the foundation for a long-term radiation therapy career.
The Radiation Therapy program prepares you for a challenging career at the forefront of cancer treatment. New radiation therapy techniques and technologies appear constantly, and Baptist University ensures that its students receive the most up-to-date radiation therapy training.
Bachelor's Degree
The radiation therapy technology (RTT) curriculum is designed to prepare the student to be an entry-level radiation therapist. A complete listing of the course requirements and course descriptions can be viewed in the Catalog. Students are encouraged to follow a specific curriculum plan to ensure progressive learning throughout the degree.
RT(R) to BHS Completion Program
Advance your career by earning a Bachelor of Health Sciences degree in Radiation Therapy. Students who have
earned an RT(R) credential will receive 32 hours of block credit toward their bachelor's degree in Radiation Therapy.
The 18-month, full-time radiation therapy professional curriculum includes the structured educational requirements for Computed Tomography (CT).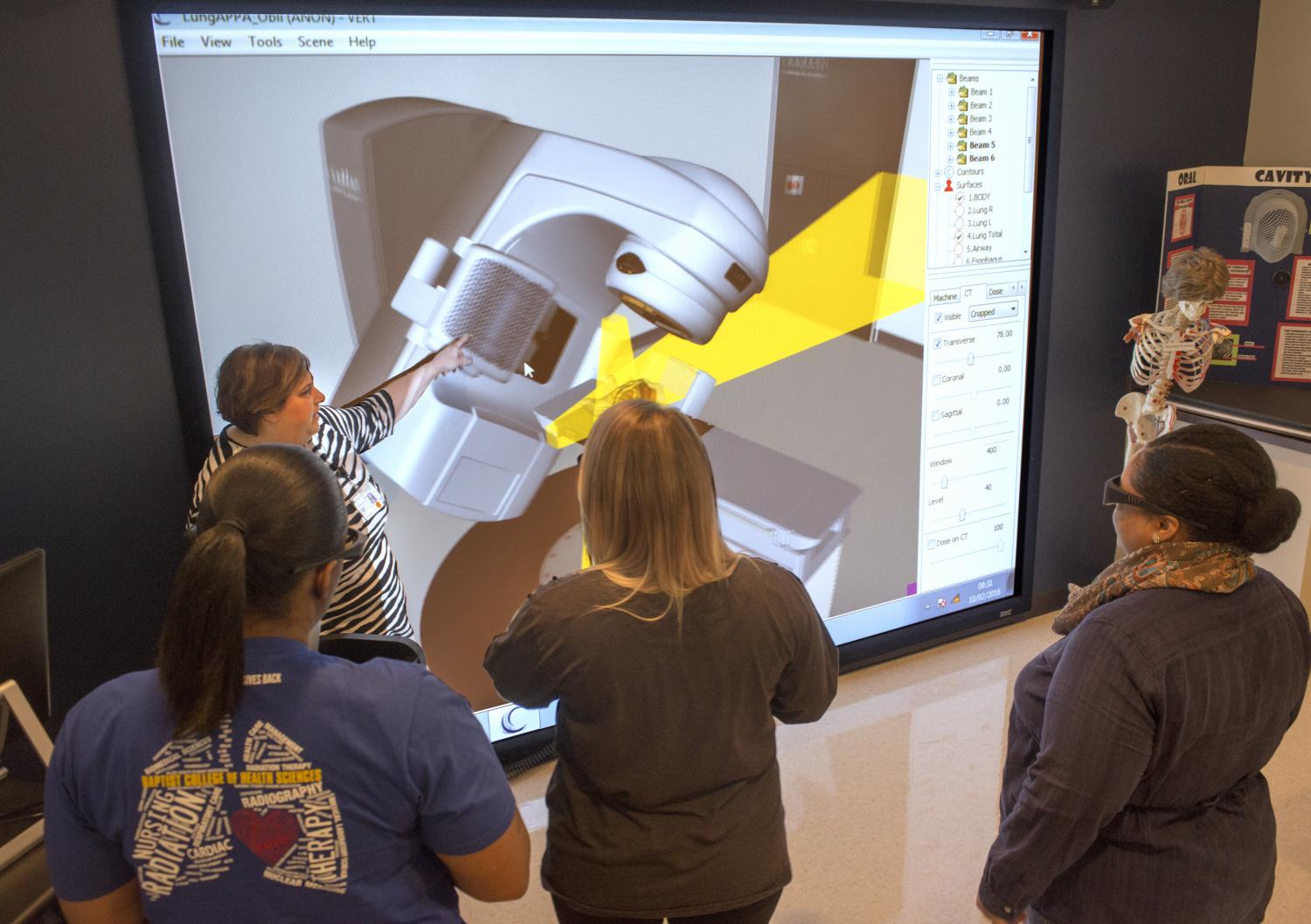 Small Classes

ensure direct faculty interaction

Clinical experience

that gives students extensive hands-on training, plus one-on-one interaction with working radiation therapists

Integration

between radiation therapy training and the spiritual, ethical, and philosophical aspects of health care

A strong education component

that emphasizes writing, communication, critical thinking, and leadership skills

Relationship with Baptist Memorial Health Care

Virtual Simulation

that offers the experience of a radiation therapy treatment room. The only Virtual Environment Radiation Therapy (VERT) Simulator lab in the state
In 2015, the JRCERT awarded the Radiation Therapy program accreditation for a period of eight years.
$86,860
Median Salary
U.S. Bureau of Labor Statistics for Radiation Therapists
100%
Board Pass Rates
2020 Graduating Class 1st Time Pass Rates
100%
Job Placement Rate
All Graduating Classes since 2013
Radiation Therapist Job Responsibilities
Administer daily delivery of therapeutic radiation according to the radiation oncologist's prescription specific to each patient

Act as an integral member of the healthcare team within the radiation oncology department

Communicate vital treatment information to the patient


Consistently assess patients for response to treatment

Maintain detailed records of treatment

Perform quality control measures relating to treatment plans and equipment

Verify exact treatment location by utilizing sophisticated imaging techniques