Program Overview
Bachelor's Degree
Bachelor's Quick Entry
RRT to BHS Completion Program
Respiratory care, also known as respiratory therapy, is a profession that specializes in providing care to patients who have illnesses that affect heart and lung function. Respiratory therapists are uniquely qualified to assist in diagnosing, treating, and managing acute and chronic cardiopulmonary disorders.
Baptist University's Respiratory Therapy program is 1 of only 3 bachelor's degree programs in Tennessee and 1 of around 70 colleges and universities in the U.S.
$62,816 Median Salary
U.S. Bureau of Labor Statistics for Respiratory Therapists
Bachelor's Degree
A Respiratory Care Bachelor's Degree at Baptist University provides a strong foundation in general studies and comprehensive professional courses that emphasize the science of cardiopulmonary pathophysiology which prepares students to become registered respiratory therapist (RRT).
The curriculum is designed to prepare students to develop the knowledge and skills needed to perform the responsibilities of an entry-level respiratory therapist. The curriculum consists of general education and health studies courses integrated with professional coursework in allied health and respiratory care, with an emphasis on cardiopulmonary science.
Courses and learning experiences that are unique to the Baptist University program include:
Applied Anatomy and Physiology using Clinical Simulation
Applied Pathophysiology using Clinical Simulation
Ongoing Physician Interaction Learning Activities with Pulmonologists
Aspects of Leadership for Health Sciences Professionals
Clinical Internship in Respiratory Care
Community and Public Health for the Respiratory Care Practitioner
Expanded Clinical Practices in Respiratory Care
Interprofessional Education Learning Activities with other Allied Health and Nursing
Bachelor's Quick Entry
Advanced Progression provides students who have been selected into the Respiratory Care program a pathway to begin taking professional-level courses earlier than usual.
RRT to BHS Completion Program
The RRT to Bachelor of Health Sciences program is designed for licensed registered respiratory therapists who want to expand their career options and improve their earning potential.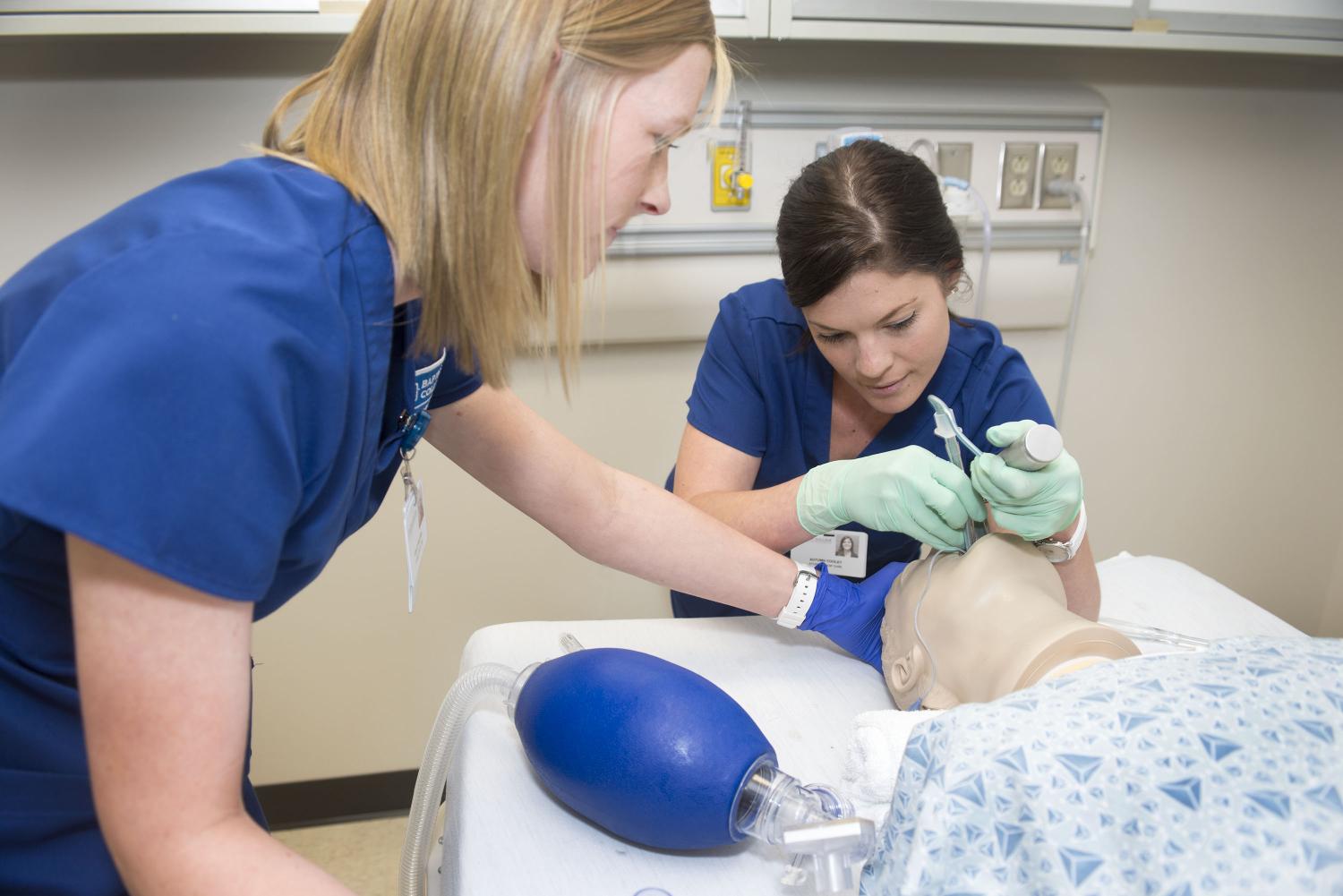 Enrollment 3 Times per year

Can enroll during fall, spring or
summer trimester

Classroom, Laboratory, and Clinical Experiences

Relationship with Baptist Memorial Health Care
"Graduating from the Respiratory Care program at Baptist University continues to benefit me in my professional career. The program's diverse clinical experiences led me to find an area of practice that I loved and prepared me for that role as a respiratory therapist caring for neonatal and pediatric patients. Through the professional courses in the curriculum, I discovered my love for teaching and learning which has encouraged me to pursue graduate school."
Samantha Richards, Respiratory Care Alumni
100%
Credentialing Exam Pass Rate
3-year Total
94%
Job Placement
3-year Total
66%
Retention Rate
3-year Total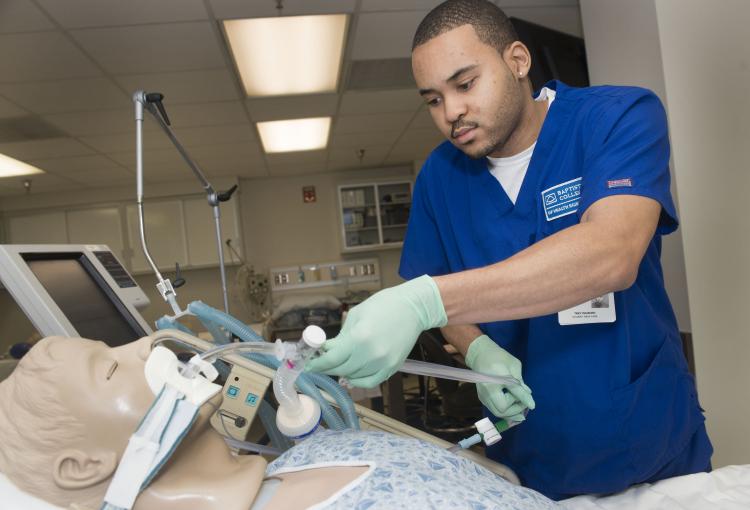 Job Responsibilities for a Respiratory Therapist
Uniquely qualified

to assist in diagnosing, treating, and managing acute and chronic cardiopulmonary disorders

Treat patients

in every age group

Assist physicians

in diagnostic interventions such as cardiac catheterizations, lung biopsies, and sleep studies

Participate

in specialized teams for emergent care such as rapid response teams, EMS transport, high-risk labor and delivery team
Program Accreditation
The Respiratory Care program is accredited by the Commission on Accreditation for Respiratory Care (CoARC). CoARC holds recognition from the Council for Higher Education Accreditation (CHEA). The CoARC number for our program is 200448. CoARC, 264 Precision Blvd. Telford, TN 37690; 817-283-2835 www.coarc.com
CoARC accredits respiratory therapy education programs in the United States. To achieve this end, it utilizes an 'outcomes based' process. Programmatic outcomes are performance indicators that reflect the extent to which the educational goals of the program are achieved and by which program effectiveness is documented."  The Baptist Health Sciences University program number is 200448
BEYOND CLINICAL PRACTICE
Students participate in required courses to develop professional behaviors related to leadership, teaching, and community and public health. Learning activities in these courses allow students to engage with health care leaders as
they learn about managing and leading health care teams, studying and conducting continuous quality improvement,
and developing and facilitating patient/family education. Having this knowledge and skill sets the Baptist University
graduate apart from others.
Program Mission
The Respiratory Care program of Baptist Health Sciences University will "prepare graduates with demonstrated competence in the cognitive (knowledge), psychomotor (skills), and affective (behavior) learning domains of respiratory care practice, as performed by registered respiratory therapists". As bachelors of health sciences program, the curriculum "prepares leaders for the field of respiratory care by including curricular content that includes objectives related to the acquisition of skills in one or more of the following: management, education, research, advanced clinical practice (which may include an area of clinical specialization)". (CoARC, 3.01, 2018)
Program Learning Outcomes
Upon completion of the respiratory care program, graduates will be able to:
Demonstrate competence in the cognitive, psychomotor, and affective learning domains of respiratory care practice as performed by registered respiratory therapists.
Demonstrate competence in the interpretation of cardiopulmonary diagnostic testing, basic respiratory care techniques, pulmonary function, radiographic and laboratory studies.
Provide basic and advanced respiratory care therapeutics, in a variety of health care settings, with an ability to safely treat and evaluate patients' response.
Appropriately implement a plan for patient and staff education techniques with consideration to culturally competent behaviors and professional domains.
Effectively collaborate to provide direction and input into decisions regarding the provision of respiratory care services and resources.
Clinical Experiences
Students participate in a variety of clinical experiences designed to prepare them for the diverse practices of the profession. Clinical practicum hours begin during a student's junior year and continue through the senior year. During students' graduating term, senior students have the opportunity to select and design a professional internship that aligns with their individual goals for future practice as a respiratory therapist.
Clinical Experiences
Adult general care
Adult critical care
Pediatric general care
Pediatric critical care
Perinatal critical care
Diagnostics, pulmonary function testing
Sleep disorders evaluation
Home care
Management
Clinical Partnerships
Baptist Memorial Health Care
Baptist Memphis
Baptist DeSoto
Baptist Women's and Childrens
Baptist Collierville
Baptist Restorative Care
Baptist Home Medical Equipment
Memphis Lung Physicians Surgery/Intubation Clinical Site
LeBonheur Children's Hospital
St Jude Children's Hospital
Regional One Health (formerly The MED)
Baptist Medical Group/Memphis Lung Physicians (DeSoto and Memphis)
Technical Standards
The following technical standards outline reasonable expectations of a student enrolled in the Respiratory Care program for the performance of common clinical functions.*
Communication
Ability to communicate with a wide variety of people and the ability to be easily understood. Reading, writing, recording, and documenting patient information required.
Analytical Skills/Critical Thinking
Analytical skills sufficient to process information, to transfer knowledge from one situation to another, and to prioritize tasks. Critical thinking ability sufficient for safe, clinical judgment.
Hearing                                                                                                                  
Auditory ability sufficient to monitor and assess patient needs, to detect and respond to alarms, emergency signals, and cries for help.
Vision
Visual ability sufficient for observation and assessment necessary for the care of patients and operation of equipment.
Tactile
Tactile ability sufficient for patient assessment and operation of equipment.
Mobility
Physical ability, flexibility, strength, and stamina sufficient to provide safe and effective care.
Fine Motor Skills
Fine motor ability sufficient to provide safe and effective care.
Behavioral
Emotional and mental health sufficient to establish therapeutic boundaries, to perform multiple tasks concurrently, to handle strong emotions, and to work effectively in a fast-paced environment.
*Students who have accessibility questions or who need accommodations should contact the Section 504/ADA Coordinator, Room 101, Science Building, at 901-572-2570 or by sending an email to Disability.Accomodations@baptistu.edu.