Program Overview
The medical radiographer, also referred to as a radiographic technologist, is a highly specialized health care professional who works closely with radiologists. They work in healthcare facilities including hospitals, outpatient clinics, surgical centers, and mobile radiographic units. Experienced radiographic technologists may advance to management positions within the diagnostic imaging department or hospital. Other advancement opportunities include teaching, technical sales, research, interventional radiology, MRI, CT, mammography, and quality management.
Overall employment of radiologic and MRI technologists is projected to grow 9% from 2018 to 2028, faster than the average for all occupations. Now is the time and this is the place to help you fulfill your calling in health care.
Bachelor's Degree Curriculum
The medical radiography program curriculum includes a strong science and patient care foundation with courses specifically designed for the practice of medical radiography. The degree requirements include successful completion of 122 credit hours of course work.
APPLYING TO THE PROGRAM
To be considered for selection to the medical radiography (RAD) program, applicants must meet the following minimum requirements.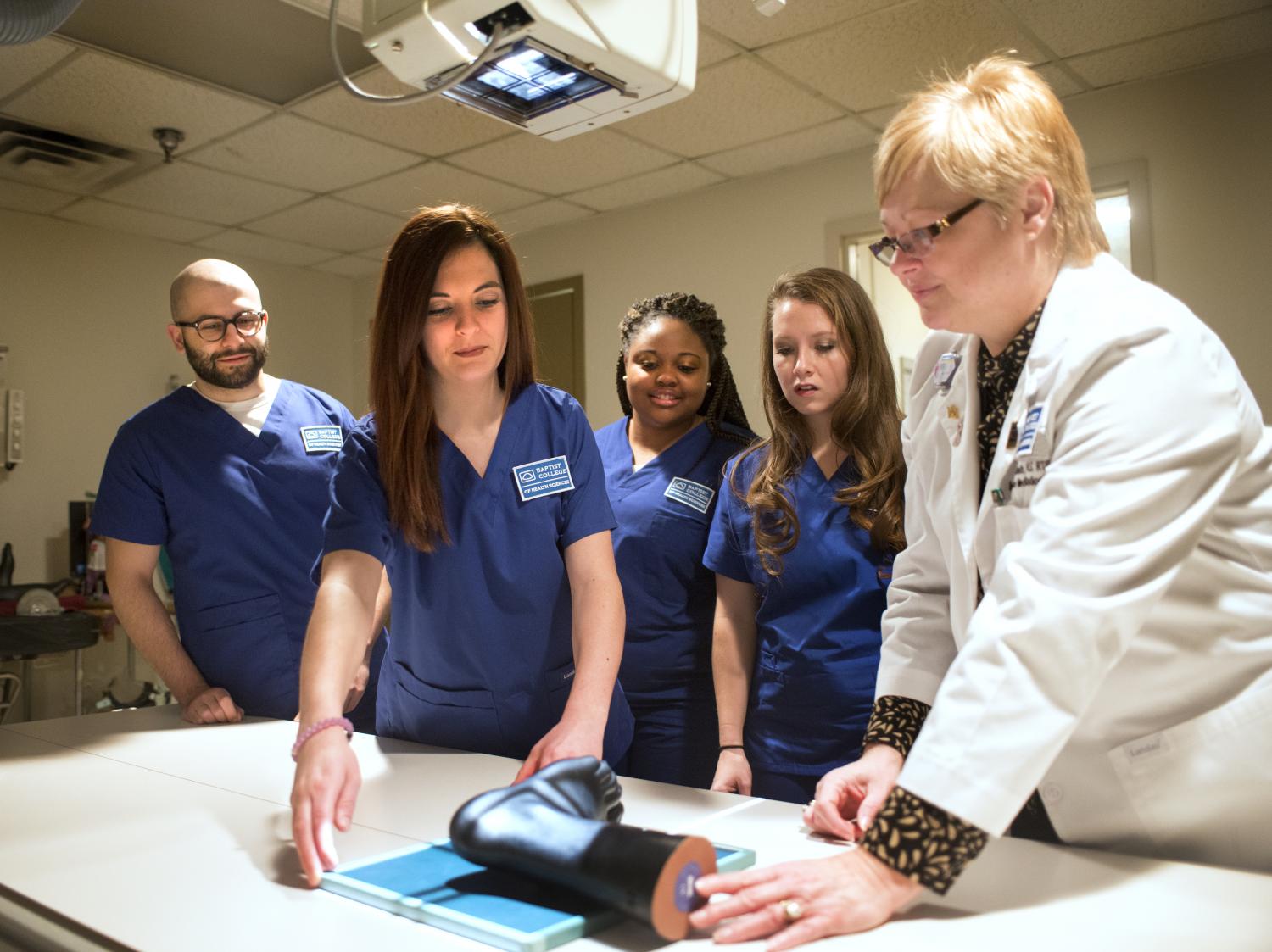 Top reason for choosing the Medical Radiography program at Baptist University
Small class sizes

for personalized attention

Opportunities to observe

advanced modalities such as MR, CT, IR, Mammography and Catheterization Lab

Graduates are eligible to take the American Registry of Radiologic Technologists' national board exam.

Additional examinations in computed tomography, magnetic resonance imaging, mammography, cardiac-interventional radiography, vascular-interventional radiography, bone densitometry are available once requirements for these specialties are met.

Classroom and laboratory environments

where students participate in individual and small group learning activities, as well as traditional lecture classes

Students gain clinical experience

in leading-edge departments throughout Tennessee and Mississippi
$61,900 Median Salary
U.S. Bureau of Labor Statistics for Radiologic Technologists and Technicians 
Program Outcomes
98.7%
Job Placement Rate
2018-202 Year Job Placement Rate

88%
Board Pass Rate
2022 Graduation year 1st time board pass rate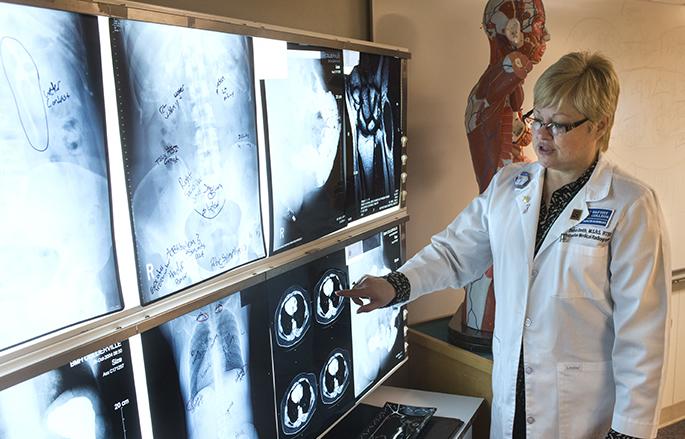 Your future as a medical radiographer
Operating

radiographic imaging equipment and accessory devices

Positioning

patients and imaging systems to perform radiographic examinations and procedures

Determining exposure factors

to obtain diagnostic quality radiographs with minimum radiation exposure

Evaluating radiographic images

for appropriate positioning and image quality

Providing education

related to radiographic procedures and radiation protection and safety
Educational/Program Goals and Program Learning Outcomes
Goal: Students will show clinical competency.
Outcomes:
Students will demonstrate proper patient positioning.
Students will utilize radiation protection.
Goal: Students will demonstrate communication skills.
Outcomes:
Students will demonstrate written communication skills.
Students will express oral communication skills.
Goal: Students will develop critical thinking skills.
Outcomes:
Students will identify a problem in the clinical environment.
Students will adapt standard procedures for non-routine patients.
Goal: Students will model professionalism.
Outcomes:
Students will demonstrate professionalism in the clinical setting.
Students will demonstrate professional behavior in educational settings​
Program Accreditation
The medical radiography program is fully accredited by the Joint Review Committee on Education in radiologic technology (JRCERT), the only organization recognized by the US Department of Education to evaluate and accredit programs in medical radiography.
The program received the maximum 8-year accreditation in 2016.
JRCERT
20 North Wacker Drive, Suite 2850
Chicago, IL 60606
312-704-5300
www.jrcert.org
Technical Standards
Technical Standards for Matriculation, Retention, and Graduation for Medical Radiography
The Bachelor of Health Science (BHS) degree with a major in Medical Radiography (RAD) from Baptist Health Sciences University (BHSU) indicates the holder is a competent entry-level medical radiographer. Therefore, all applicants and matriculated students must possess certain essential abilities and characteristics required for completion of the BHS – RAD degree that consist of certain minimum physical and cognitive abilities and emotional characteristics. This is to ensure that candidates for admission, matriculation, and graduation are able to complete the entire course of study and participate fully in all aspects of the program, with or without reasonable accommodations.
To be qualified for the BHS – RAD degree, future training, and subsequent credentialing, the candidate must demonstrate competency in ten requisite areas: communication; analytical skills/critical thinking; hearing; vision; smell; motor skills; behavioral; environmental tolerance; professional attitudes and interpersonal skills; and technological. Students are required to demonstrate said competencies to provide safe and effective medical radiographic examinations in a wide variety of clinical environments.
Baptist Health Sciences University is committed to the admission and matriculation of qualified students and does not discriminate based on race, color, ethnicity, sex, gender, marital status, national or ethnic origin, age, disability, creed, or religion. Candidates with disabilities can request reasonable accommodations if needed to meet these technical standards by following the University's policies and procedures and contacting the Office for Disability Services. A candidate must be able to perform these outlined technical standards in an independent manner.
The national board examinations for medical radiography may have more stringent technical standards than outlined in this document.
Students who accept an offer of admission from Baptist Health Sciences University will be required to sign an affirmation regarding compliance with the technical standards. Should a student's ability to meet the technical standards change at any point in the academic program, it is their responsibility to report this to the Program Chair and Office of Disability Services.
The following technical standards outline reasonable expectations of a student enrolled in the Medical Radiography program for the performance of common clinical functions.
Communication
Ability to communicate with a diverse population and the ability to be easily understood. Reading, writing, and documenting patient information accurately is required.
Communicate with clear dictation and in a concise manner to patients, visitors, and other healthcare professionals.

Read, type, and write appropriate instructions and documentations in patients' medical records accurately.

Elicit information and cooperation in order to obtain patient history, give breathing instructions.

Describe changes in a patient's mood, activity, and posture.

Perceive nonverbal communication such as pain, lack of comprehension.

Recognize and report critical patient information to other caregivers.
Analytical Skills/Critical Thinking
Analytical skills sufficient to process information, to transfer knowledge from one situation to another, and to prioritize tasks. Critical thinking ability sufficient for safe, clinical judgment.
Organize and accurately perform in proper sequence the steps required for radiographic procedures.

Ability to quickly assess patients' conditions and other emergent situations, determine appropriate courses of action, request assistance or delegate responsibilities to coworkers, and/or respond as needed.

Understand the spatial relationship of anatomic structures and comprehend three-dimensional relationship in order to perform radiographic procedures.

Critical Thinking/ability sufficient for clinical judgement such as modification of radiographic procedures and/or technical factors to accommodate patient age/or condition.
Hearing                                                                                                                 
Auditory ability sufficient to monitor and assess patient needs, to detect and respond to alarms, emergency signals, and cries for help.
Ability to understand, and respond appropriately to comments, questions, and instructions given in person, over the phone, or from a distance including those given when personnel are wearing surgical masks.

Ability to hear various equipment and background sounds during equipment operations.

Hear normal speaking level sounds, auscultatory sounds, and auditory alarms such as monitors, fire alarms, call bells, emergency signals, and cries for help.
Vision
Visual ability sufficient for observation and assessment necessary for the care of patients and operation of equipment.
Visually monitor patients in low levels of light.

View anatomy and appropriate imaging techniques on radiographic images displayed on within a low light environment.

Observe and evaluate patient's body habitus, image receptor sizes and selection of appropriate radiographic exposure factors.

Observe the results of certain stimuli such as medication reaction or patient's skin color changes such as cyanosis or pallor.

Distinguish between different shades of gray on radiographs.

Read patient identification and medical records on computer screens.
Smell
Olfactory ability sufficient to detect significant environmental and patient odors.
Detect odors from patient (foul smelling drainage, alcohol breath).

Detect burning and/or smoke.
Motor Skills
Motor abilities required for radiography include fine muscular movements, equilibrium, strength, and functional use of all combined senses for the safe handling of patients, self, and equipment.
Regularly reach up to six (6) feet off the floor in order to manipulate radiographic equipment.

Push, pull, or lift fifty (50) pounds of weight.

Transfer immobile patients from stretcher to radiographic table with some assistance from other personnel.

Push standard and oversized patient wheelchairs, as well as mobile x-ray equipment to and from various areas.

Standing for extended periods of time along with frequent bending and kneeling.

Wearing a five (5) pound lead apron for extended periods of time.

Manual dexterity for patient positioning and with accessory devices and equipment controls.
Behavioral
Emotional and mental health sufficient to establish interpersonal boundaries, to perform multiple tasks concurrently, to handle strong emotions, and accept responsibility/accountability for actions.
Deliver unbiased patient care.

Establish rapport with patients, healthcare workers, instructors and peers.

Ability to calmly and respectfully cope in stressful situations, emergency situations, or in situations involving other personnel.

Accept constructive and professional criticism.

Follow all program, university, and clinical site policies.

Ability to maintain confidentiality at all times.
Environmental Tolerance
Radiography students may be exposed to communicable diseases and/or blood and body fluids, toxic substances, medical preparations, latex, and ionizing radiation.
May care for patients with a communicable disease and shall provide all care using universal precautions.

Possible exposure to chemicals, irritants, and latex and follow safety and health protection guidelines.

May be exposed to ionizing radiation and shall follow radiation protection guidelines at all times.

Ability to work in a noisy environment with frequent interruptions.
Professional Attitudes and Interpersonal Skills
Present with professional appearance and demeanor; follow instructions and safety protocols and maintain a positive attitude. Demonstrate honesty and integrity.
Possess interpersonal abilities sufficient to interact with individuals, families, groups, etc. from a variety of social, emotional, cultural, and intellectual backgrounds.

Maintain professional boundaries.

Display flexibility and adaption while working with diverse populations.

Effectively work within a team and workgroups.

Exhibit ethical behaviors and exercise good judgement.
Technological
Adaptability and skills to utilize current electronic, digital, and medical technologies.
Utilize keyboard or touchscreens for selection and inputting of clinical data into consoles, computers and charts.

Adapt to changing technology within the medical field.
Reasonable Accommodations for Students with Disabilities
In accordance with the Americans with Disabilities Act (ADA), Section 504 of the Rehabilitation Act, and other applicable laws, the Baptist Health Sciences University Medical Radiography provides reasonable accommodations for otherwise qualified students with verified disabilities. An accommodation will not be provided if it would result in the fundamental alteration of the university's programs, services or activities, or if it would impose undue financial or administrative burdens on the University.
Additional information about Baptist Health Sciences University's Office of Disability Services may be found at https://www.baptistu.edu. If student circumstances should change related to these technical standards, the student will promptly notify the Program Chair and Office of Disability Services if reasonable accommodations are required at any point.
Program Mission
Medical Radiography
The mission of the Medical Radiography program is to provide quality education in a Christian atmosphere to prepare graduates to be competent, entry level radiographers.
Clinical Obligations
The Medical Radiography Program has many clinical settings throughout a wide area. Students will be responsible for their own transportation. Students will be required to attend a variety of clinical settings which means that not all clinical rotations will be close to home. On occasion the clinical rotation may be as much as an hour away. Clinical rotations may start as early as 7 am and end as late as 4:30 pm, but are not longer than 8 hours a day, excluding lunch breaks. Evening rotations are not required but are encouraged for the experience. There are no weekend clinical assignments.
The University will purchase malpractice insurance, the cost is covered in student fees. Health insurance is strongly encouraged, but not mandatory. All students must pass a background check and drug screening prior to beginning the program, the University will arrange and notify you about the procedures. The University has a policy of random drug checks. For more details see the student handbook.
Student Handbook