Program Overview
The medical radiographer, also referred to as a radiographic technologist, is a highly specialized health care professional who works closely with radiologists. They work in healthcare facilities including hospitals, outpatient clinics, surgical centers, and mobile radiographic units. Experienced radiographic technologists may advance to management positions within the diagnostic imaging department or hospital. Other advancement opportunities include teaching, technical sales, research, interventional radiology, MRI, CT, mammography, and quality management.
Overall employment of radiologic and MRI technologists is projected to grow 9% from 2018 to 2028, faster than the average for all occupations. Now is the time and this is the place to help you fulfill your calling in health care.
Bachelor's Degree Curriculum
The medical radiography program curriculum includes a strong science and patient care foundation with courses specifically designed for the practice of medical radiography. The degree requirements include successful completion of 122 credit hours of course work.
APPLYING TO THE PROGRAM
To be considered for selection to the medical radiography (RAD) program, applicants must meet the following minimum requirements.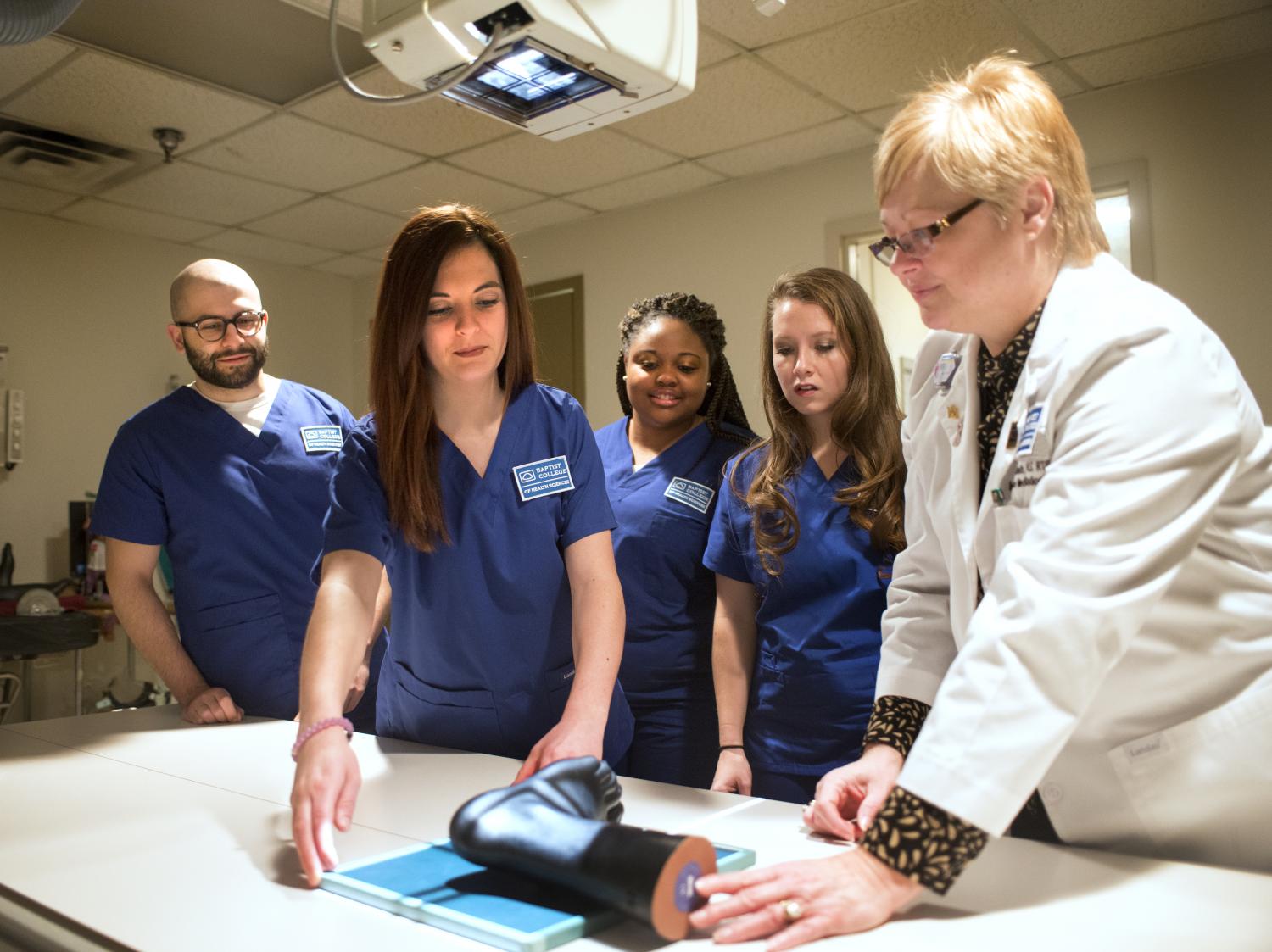 Top reason for choosing the Medical Radiography program at Baptist University
Small class sizes

for personalized attention

Opportunities to observe

advanced modalities such as MR, CT, IR, Mammography and Catheterization Lab

Graduates are eligible to take the American Registry of Radiologic Technologists' national board exam.

Additional examinations in computed tomography, magnetic resonance imaging, mammography, cardiac-interventional radiography, vascular-interventional radiography, bone densitometry are available once requirements for these specialties are met.

Classroom and laboratory environments

where students participate in individual and small group learning activities, as well as traditional lecture classes

Students gain clinical experience

in leading-edge departments throughout Tennessee and Mississippi
$61,900 Median Salary
U.S. Bureau of Labor Statistics for Radiologic Technologists and Technicians 
Program Outcomes
97%
Job Placement Rate
2015-2019 5-Year Job Placement Rate Average

94%
Board Pass Rate
2020 Graduation year 1st time board pass rate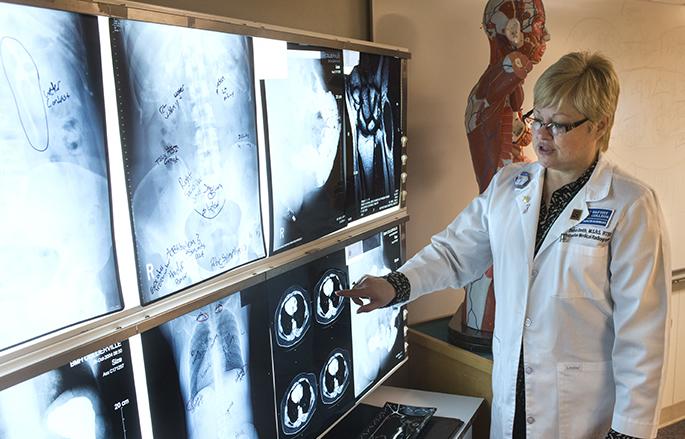 Your future as a medical radiographer
Operating

radiographic imaging equipment and accessory devices

Positioning

patients and imaging systems to perform radiographic examinations and procedures

Determining exposure factors

to obtain diagnostic quality radiographs with minimum radiation exposure

Evaluating radiographic images

for appropriate positioning and image quality

Providing education

related to radiographic procedures and radiation protection and safety
Educational/Program Goals and Program Learning Outcomes
Goal: Students will show clinical competency.
Outcomes:
Students will demonstrate proper patient positioning.
Students will utilize radiation protection.
Students will select technical factors for quality assurance.
Goal: Students will demonstrate communication skills.
Outcomes:
Students will demonstrate written communication skills.
Students will express oral communication skills.
Goal: Students will develop critical thinking skills.
Outcomes:
Students will identify a problem in the clinical environment.
Students will adapt standard procedures for non-routine patients.
Goal: Students will model professionalism.
Outcomes:
Students will demonstrate professionalism in the clinical setting.
Students will demonstrate professional behavior in educational settings
Program Accreditation
The medical radiography program is fully accredited by the Joint Review Committee on Education in radiologic technology (JRCERT), the only organization recognized by the US Department of Education to evaluate and accredit programs in medical radiography.
The program received the maximum 8-year accreditation in 2016.
JRCERT
20 North Wacker Drive, Suite 2850
Chicago, IL 60606
312-704-5300
www.jrcert.org
Technical Standards
The following technical standards outline reasonable expectations of a student enrolled in the Medical Radiography program for the performance of common clinical functions.* Communication
Ability to communicate with a wide variety of people and the ability to be easily understood. Reading, writing, recording, and documenting patient information is required.
Analytical Skills/Critical Thinking
Analytical skills sufficient to process information, to transfer knowledge from one situation to another, and to prioritize tasks. Critical thinking ability sufficient for safe, clinical judgment.
Hearing                                                                                                                  
Auditory ability sufficient to monitor and assess patient needs, to detect and respond to alarms, emergency signals, and cries for help.
Vision
Visual ability sufficient for observation and assessment necessary for the care of patients and operation of equipment.
Tactile
Tactile ability sufficient for patient assessment and operation of equipment.
Mobility
Physical ability, flexibility, strength, and stamina sufficient to provide safe and effective care.
Fine Motor Skills
Fine motor ability sufficient to provide safe and effective care.
Behavioral
Emotional and mental health sufficient to establish therapeutic boundaries, to perform multiple tasks concurrently, to handle strong emotions, and to work effectively in a fast-paced environment.
*Students who have accessibility questions or who need accommodations should contact the Section 504/ADA Coordinator, Room 101, Science Building, at 901-572-2570 or by sending an email to Disability.Accomodations@baptistu.edu.
Program Mission
Medical Radiography
The mission of the Medical Radiography program is to provide quality education in a Christian atmosphere to prepare graduates to be competent, entry level radiographers.
Clinical Obligations
The Medical Radiography Program has many clinical settings throughout a wide area. Students will be responsible for their own transportation. Students will be required to attend a variety of clinical settings which means that not all clinical rotations will be close to home. On occasion the clinical rotation may be as much as an hour away. Clinical rotations may start as early as 7 am and end as late as 4:30 pm, but are not longer than 8 hours a day, excluding lunch breaks. Evening rotations are not required but are encouraged for the experience. There are no weekend clinical assignments.
The University will purchase malpractice insurance, the cost is covered in student fees. Health insurance is strongly encouraged, but not mandatory. All students must pass a background check and drug screening prior to beginning the program, the University will arrange and notify you about the procedures. The University has a policy of random drug checks. For more details see the student handbook.
Student Handbook