Program Overview
Diagnostic medical sonography, also referred to as ultrasound, is a dynamic field in the area of Allied Health. As part of the health care team, diagnostic medical sonographers perform diagnostic medical examinations utilizing specialized equipment to assist with patient care.
Sonography and clinical practicum courses allow students to gain knowledge in multiple areas of sonography such as:
Abdominal sonography
Obstetrical and gynecological sonography
Breast sonography
Pediatric sonography
Vascular sonography
Adult and fetal echocardiography
Ultrasound physics
Median Salary $75,920
According to the US Bureau of Labor Statistics for Diagnostic Medical Sonographers.
Bachelor's Degree
The baccalaureate curriculum requirements include a strong science foundation with courses specific to the practice of diagnostic medical sonography. The sonography and clinical practicum courses are designed to prepare the student's knowledge base to perform sonographic examinations as an entry-level sonographer.
Applying to the Program
Students interested in the DMS program are required to complete several pre-program college level courses prior to applying to the program. All required courses are offered at Baptist University.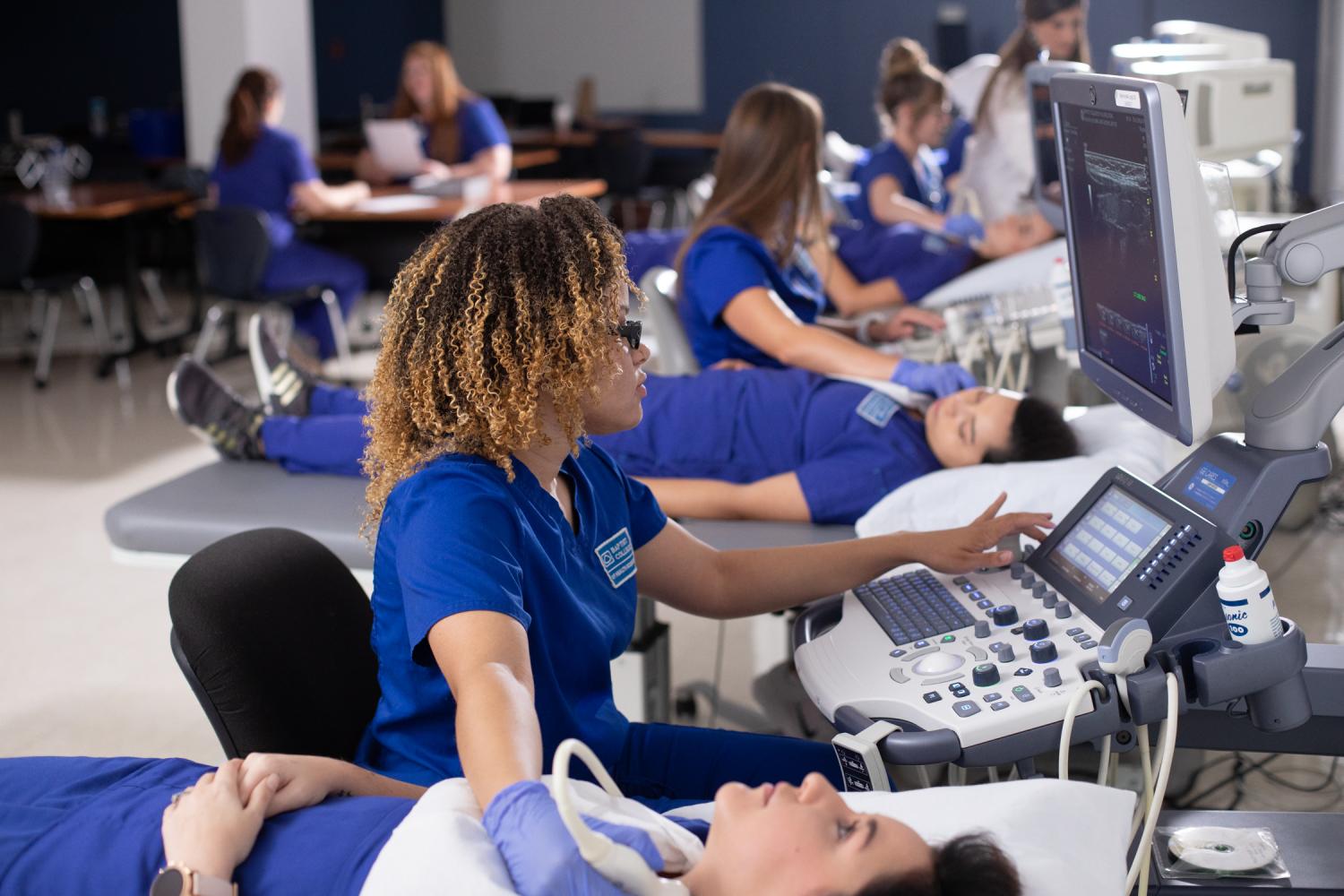 Why Sonography at Baptist University?
Student centered with small classrooms

In-class instruction, Online instruction, Laboratory experience & clinical practicum experience

Upon successful completion of examinations, graduates can earn multiple credentials

Registered Diagnostic Medical Sonographer (RDMS),
Registered Vascular Technologist (RVT), and
Registered Diagnostic Cardiac Sonographer (RDCS).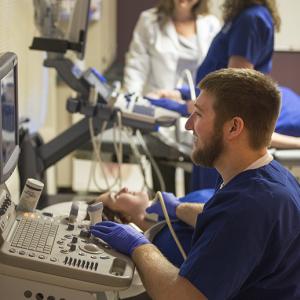 "I could not be more pleased with my experience as a student in the DMS program. The program offers a bachelors degree in ultrasound along with being trained in every modality. I was able to obtain RDMS (Ab) and RVT credentials before I graduated. I feel that the program and the instructors that are in charge of the program really care for their students. I highly recommend a career in diagnostic medical sonography, but I also highly recommend choosing the DMS program at Baptist University of Health Science for obtaining an education in this field."
Chase McGee, DMS Alumni
Program Outcomes
100%
Placement Rate
Graduation Year 2021
85%
Retention Rate
Graduation Year 2021
97%
Credential Success Rate
Graduation Year 2021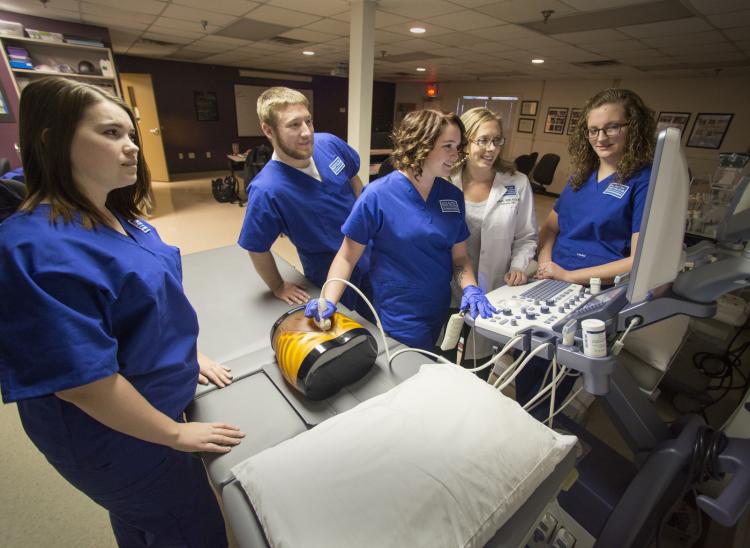 Frequently Asked Questions
Have a few questions about the sonography program?
Program Accreditation
The program is accredited by the Commission on Accreditation of Allied Health Education Programs (CAAHEP) on recommendation by the Joint Review Committee on Education Programs in Diagnostic Medical Sonography (JRC-DMS). The program at Baptist University is accredited in both the general and vascular concentrations.
CAAHEP (

9355 – 113th Street, North Suite 7709, Seminole, FL 33775

, 727-210-2350, fax 727-210-2354, www.caahep.org)
JRC-DMS (6021 University Boulevard, Suite 500, Ellicott City, MD 21043, 443-973-3251, www.jrcdms.org)
Mission
The DMS degree program at Baptist University will provide an excellent educational program to prepare students to enter the dynamic field of diagnostic medical sonography.
Program Learning Goal
To prepare competent entry-level sonographers in the cognitive (knowledge), Psychomotor (skills), and affective (behavior) learning domains for the following concentrations it offers: Abdominal sonography – Extended, Obstetrics and gynecology sonography, and Vascular sonography.
Program Learning Outcomes
Upon completion of the course of study in the DMS program, graduates will:
Function as a knowledgeable entry-level sonographer.
Demonstrate clinical proficiency of sonographic procedures.
Exhibit behavior skills that reflect professionalism, effective communication, and time-management skills.
Technical Standards
Technical Standards for Matriculation, Retention, and Graduation for Diagnostic Medical Sonography
The Bachelor of Health Science (BHS) degree with a Major in Diagnostic Medical Sonography (DMS) from Baptist University indicates the holder is a competent entry-level sonographer. Therefore, all applicants and matriculated students must possess certain essential abilities and characteristics required for completion of the BHS-DMS degree that consist of certain minimum physical and cognitive abilities and emotional characteristics.  This is to ensure that candidates for admission, matriculation, and graduation are able to complete the entire course of study and participate fully in all aspects of the diagnostic medical sonography education, with or without reasonable accommodations.
To be qualified for the BHS-DMS degree, future training, and subsequent credentialing, the candidate must demonstrate competency in eight requisite areas: analytical skills and critical thinking; intellectual-conceptual; communication; hearing and vision; fine motor skills; tactile; behavioral and social attributes; and mobility. Students are required to demonstrate said competencies to provide safe and effective sonographic examinations in a wide variety of clinical environments.
Baptist University is committed to the admission and matriculation of qualified students and does not discriminate based on race, color, ethnicity, sex, gender, marital status, national or ethnic origin, age, disability, creed, or religion. Candidates with disabilities can request reasonable accommodations if needed to meet these technical standards by following the University's policies and procedures and contacting the Office for Disability Services. A candidate must be able to perform these outlined technical standards in an independent manner.
The national board examinations for sonography may have more stringent technical standards than outlined in these technical standards.
Students who accept an offer of admission from Baptist Health Sciences University will be required to sign an affirmation regarding compliance with the technical standards. Should a student's ability to meet the technical standards change at any point in the academic program, it is their responsibility to report to the Program Chair and Office of Disability Services.
 Analytical Skills / Critical Thinking
An applicant must be able to obtain and evaluate the patient's medical history and current presenting indications for the ultrasound ordered by the physician. An applicant must, after a reasonable period of training, be able to evaluate data from the ultrasound examination to determine its relevance to the examination and use clinical judgement to adapt the protocol to optimize the examination results.
Intellectual-Conceptual
An applicant must have the ability to conceptually visualize and comprehend human anatomy in three dimensional relationships and to understand and be able to work within the spatial relationships of structures. Candidates must possess proficient measurement, calculation, reasoning, and analysis skills. Problem solving, the critical skill demanded of sonographers, requires all of these intellectual abilities. Analytical problem-solving skills are critical in sonography and candidates must be able to perform tasks utilizing such skills in a timely manner. Students must, after a reasonable period of training, be able to recognize and understand anatomical relationships visualized in an ultrasound image. Students must have the intellectual capability to increase their knowledge as through various media as well as from course materials, scheduled lectures, scanning laboratory activities, and current literature and professional journals.
Communication
An applicant must be able to respectfully and effectively communicate with patients, the public, faculty, peers, and all members of the healthcare team. An applicant must be able to obtain, document, and communicate relevant information related to the sonographic examination. Communication includes verbal and nonverbal speech, reading, and writing or the functional equivalent.
Hearing and Vision
An applicant must possess the auditory abilities sufficient to monitor and assess patient needs or the functional equivalent. Students must have the auditory ability to accurately distinguish sounds related to blood flow using Doppler during the ultrasound examination or the functional equivalent.
An applicant must have acute visual skills necessary to make accurate visual observations and interpret them in the context of performing an ultrasound examination and patient care activities. Students must be able to discern shades of gray, changes of color, and depth of perception when performing an ultrasound examination or the functional equivalent.
Fine Motor Skills
An applicant must have the ability to perform repetitive motion activities and possess good eye-hand coordination. Students must be able to grasp and manipulate the ultrasound equipment, including the keyboard, transducer, and ancillary equipment. Students must be able to maintain prolonged deviation of the wrist while performing an ultrasound examination.
Tactile
An applicant must have the tactile ability to feel and touch with sensitivity to heat, cold, pressure, size, and shape. Students must, after reasonable period of training, be able to perform tactile assessment techniques necessary for accurate patient assessment. Students must be able to manipulate buttons, dials, and switches on the ultrasound equipment.
Behavioral and Social Attributes
An applicant must possess the emotional capability to establish therapeutic boundaries, to perform multiple tasks concurrently, and to handle strong emotions. Students must possess interpersonal abilities to interact with patients, the public, and other healthcare members from different social and cultural backgrounds. Students must have the ability to function under the stress of physically and emotionally demanding ultrasound clinical workloads and be able to work in environments with multiple interruptions, noises, and distractions. Personal characteristics expected of a sonographer include trustworthiness, compassion, empathy, altruism, integrity, honesty, responsibility, and self-direction. A sonographer must accept accountability for professional judgments and decisions.
Mobility
An applicant must possess the physical capability to operate and move equipment in the ultrasound department, including the ultrasound machine, stretcher or hospital beds, and various medical equipment needed in the transportation of a patient. These activities require physical mobility, along with coordination of both gross and fine motor neuromuscular function.
Reasonable Accommodations for Students with Disabilities:
In accordance with the Americans with Disabilities Act (ADA), Section 504 of the Rehabilitation Act, and other applicable laws, Baptist Health Sciences University provides reasonable accommodations for otherwise qualified students with verified disabilities. An accommodation will not be provided if it would result in fundamental alteration of the university's programs, services or activities, or if it would impose undue financial or administrative burdens on the University.
Additional information about Baptist University Office of Disability Services may be found at https://www.baptistu.edu. If student circumstances should change related to these technical standards, the student will promptly notify the Program Chair and Office of Disability Services if reasonable accommodations are required at any point.