Program Overview
Diagnostic medical sonography, also referred to as ultrasound, is a dynamic field in the area of Allied Health. As part of the health care team, diagnostic medical sonographers perform diagnostic medical examinations utilizing specialized equipment to assist with patient care.
Sonography and clinical practicum courses allow students to gain knowledge in multiple areas of sonography such as:
Abdominal sonography
Obstetrical and gynecological sonography
Breast sonography
Pediatric sonography
Vascular sonography
Adult and fetal echocardiography
Ultrasound physics
Median Salary $75,920
According to the US Bureau of Labor Statistics for Diagnostic Medical Sonographers.
Bachelor's Degree
The baccalaureate curriculum requirements include a strong science foundation with courses specific to the practice of diagnostic medical sonography. The sonography and clinical practicum courses are designed to prepare the student's knowledge base to perform sonographic examinations as an entry-level sonographer.
Applying to the Program
Students interested in the DMS program are required to complete several pre-program college level courses prior to applying to the program. All required courses are offered at Baptist University.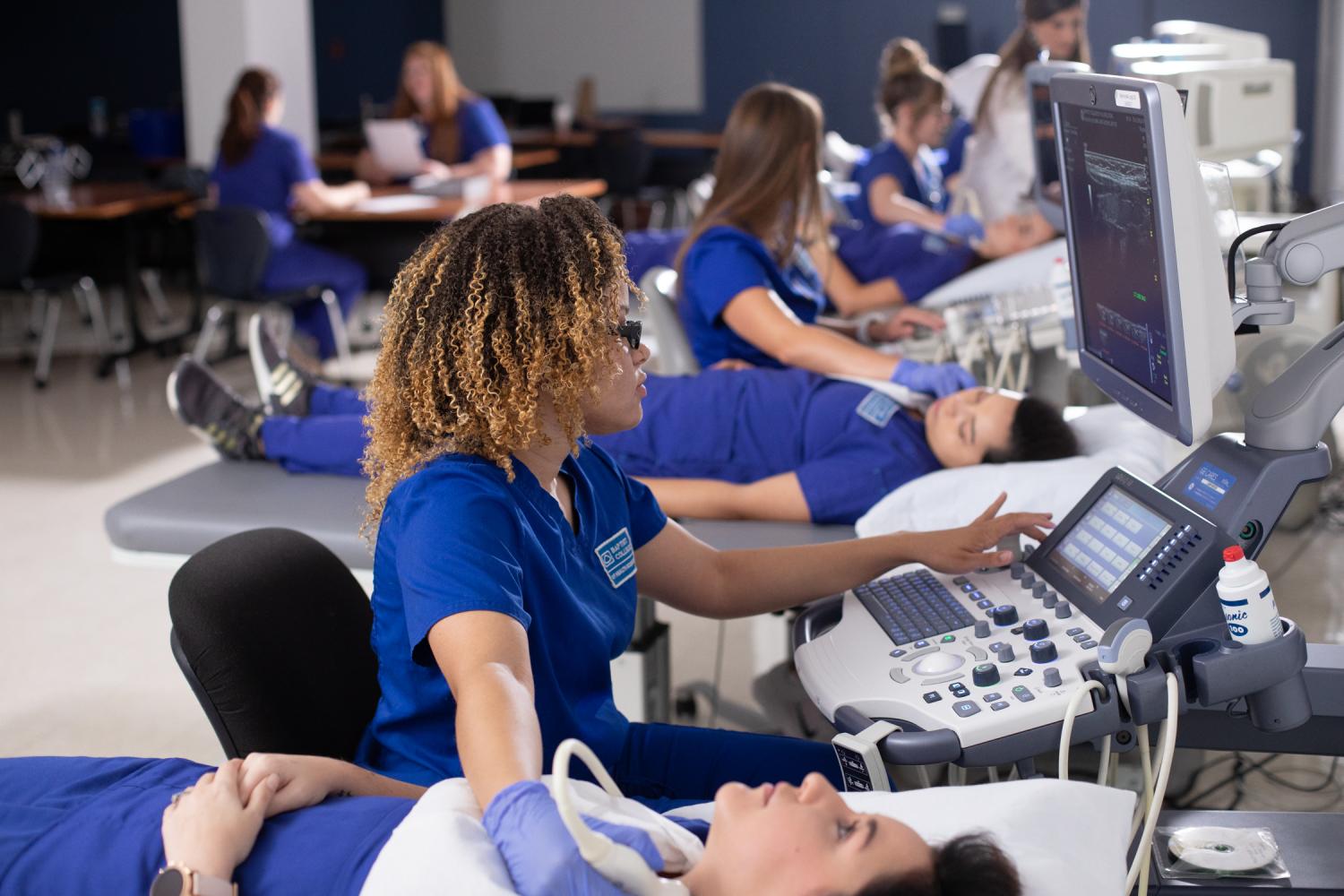 Why Sonography at Baptist University?
Student centered with small classrooms

In-class instruction, Online instruction, Laboratory experience & clinical practicum experience

Upon successful completion of examinations, graduates can earn multiple credentials

Registered Diagnostic Medical Sonographer (RDMS),
Registered Vascular Technologist (RVT), and
Registered Diagnostic Cardiac Sonographer (RDCS).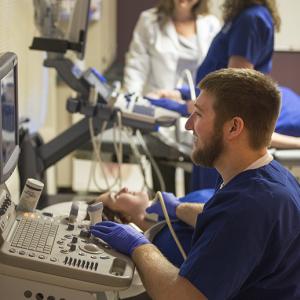 "I could not be more pleased with my experience as a student in the DMS program. The program offers a bachelors degree in ultrasound along with being trained in every modality. I was able to obtain RDMS (Ab) and RVT credentials before I graduated. I feel that the program and the instructors that are in charge of the program really care for their students. I highly recommend a career in diagnostic medical sonography, but I also highly recommend choosing the DMS program at Baptist University of Health Science for obtaining an education in this field."
Chase McGee, DMS Alumni
Program Outcomes
100%
Placement Rate
Graduation Year 2021
85%
Retention Rate
Graduation Year 2021
97%
Credential Success Rate
Graduation Year 2021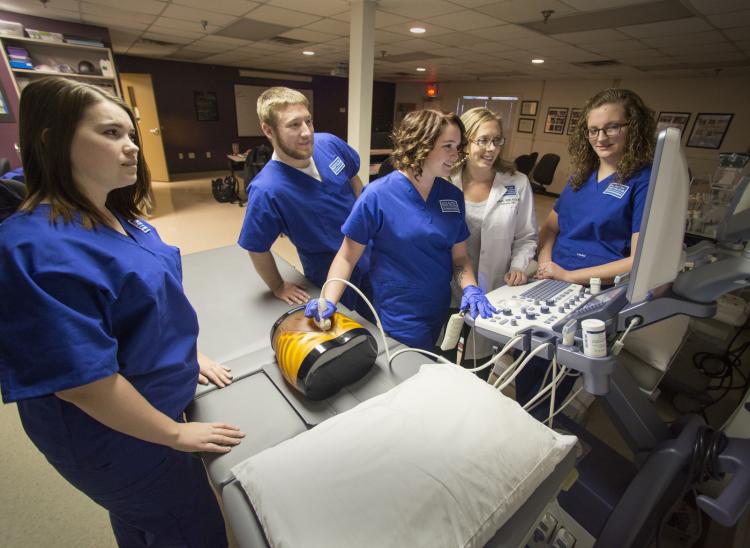 Frequently Asked Questions
Have a few questions about the sonography program?
Program Accreditation
The program is accredited by the Commission on Accreditation of Allied Health Education Programs (CAAHEP) on recommendation by the Joint Review Committee on Education Programs in Diagnostic Medical Sonography (JRC-DMS). The program at Baptist University is accredited in both the general and vascular concentrations.
CAAHEP (

9355 – 113th Street, North Suite 7709, Seminole, FL 33775

, 727-210-2350, fax 727-210-2354, www.caahep.org)
JRC-DMS (6021 University Boulevard, Suite 500, Ellicott City, MD 21043, 443-973-3251, www.jrcdms.org)
Mission
The DMS degree program at Baptist University will provide an excellent educational program to prepare students to enter the dynamic field of diagnostic medical sonography.
Program Learning Goal
To prepare competent entry-level sonographers in the cognitive (knowledge), Psychomotor (skills), and affective (behavior) learning domains for the following concentrations it offers: Abdominal sonography – Extended, Obstetrics and gynecology sonography, and Vascular sonography.
Program Learning Outcomes
Upon completion of the course of study in the DMS program, graduates will:
Function as a knowledgeable entry-level sonographer.
Demonstrate clinical proficiency of sonographic procedures.
Exhibit behavior skills that reflect professionalism, effective communication, and time-management skills.
Technical Standards
The following technical standards outline reasonable expectations of a student enrolled in the Diagnostic Medical Sonography program for the performance of common clinical functions.*
Communication
Ability to communicate with a wide variety of people and the ability to be easily understood. Reading, writing, recording, and documenting patient information required.
Analytical Skills/Critical Thinking
Analytical skills sufficient to process information, to transfer knowledge from one situation to another, and to prioritize tasks. Critical thinking ability sufficient for safe, clinical judgment.
Hearing                                                                                                                  
Auditory ability sufficient to monitor and assess patient needs, to detect and respond to alarms, emergency signals, and cries for help.
Vision
Visual ability sufficient for observation and assessment necessary for the care of patients and operation of equipment.
Tactile
Tactile ability sufficient for patient assessment and operation of equipment.
Mobility
Physical ability, flexibility, strength, and stamina sufficient to provide safe and effective care.
Fine Motor Skills
Fine motor ability sufficient to provide safe and effective care.
Behavioral
Emotional and mental health sufficient to establish therapeutic boundaries, to perform multiple tasks concurrently, to handle strong emotions, and to work effectively in a fast-paced environment.
*Students who have accessibility questions or who need accommodations should contact the Section 504/ADA Coordinator, Room 101, Science Building, at 901-572-2570 or by sending an email to Disability.Accomodations@baptistu.edu.