Celebrating Our Grads With Our First Ever Drive-Thru Graduation & Virtual Commencement Ceremony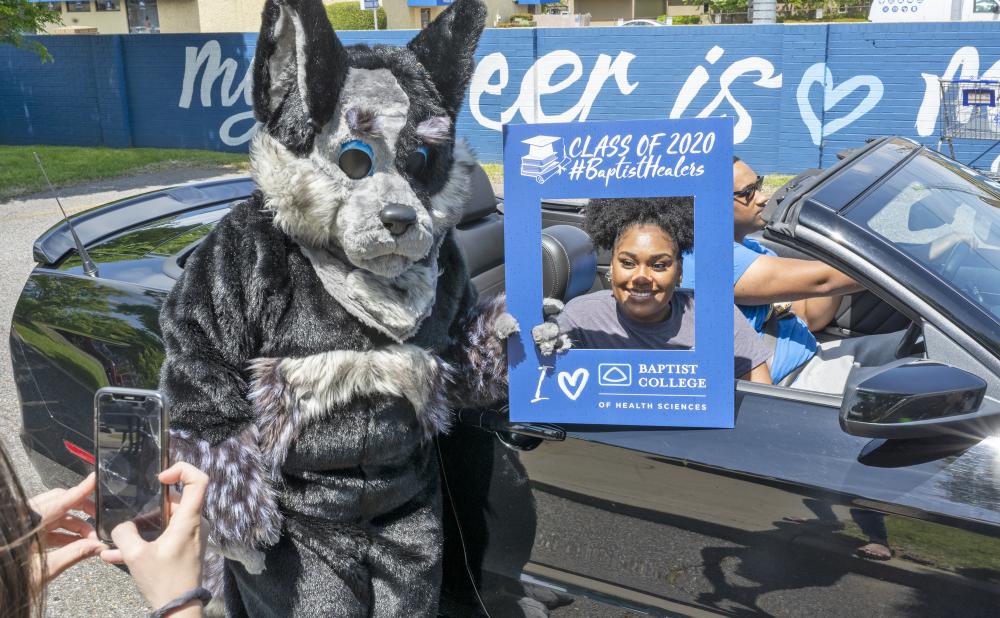 Like so many, our students set to graduate in April 2020 from the Baptist College of Health Sciences had to reimagine their graduation activities, at least for now. Faculty, staff and administration found a unique, socially-distant and responsible way to honor their spring graduates. They held a drive-thru graduation parade on April 17 where graduates picked up diplomas, college pins and a virtual graduation-in-a-box kit to celebrate at home with family and loved ones.
The box kits included the graduates' diplomas, official college pins, photo props, custom College cookies, honor cords or stoles for those who earned them, and alumni-branded mugs and license plate covers.
"This time has been an adjustment for everyone, but especially for those graduating in 2020 and for those working in health care," said Betty Sue McGarvey, president of the Baptist College of Health Sciences. "I am so proud of our students and faculty for their unique thinking to create the drive-thru graduation ceremony, a definite first for the Baptist College of Health Sciences, and I look forward to the traditional commencement  ceremonies when circumstances allow."
In addition to the graduation-in-a-box kits, the graduates received a video link from faculty, staff and administration congratulating them on their achievements in addition to a brief commencement address from Dr. McGarvey.
Since traditional cap and gown, diploma-receiving pictures weren't an option, College administration arranged for drone photos of the car lines and pictures of each graduate's car as they pulled up to receive their graduation goodies. Graduates decorated their cars and faculty from all majors celebrated with signs, pompoms and encouraging cheers.
"We had a great time celebrating our College graduates while maintaining social distance," said Megan Bursi, director of marketing and alumni relations at the Baptist College of Health Sciences. "While it wasn't traditional, it's definitely memorable. Congratulations to our new Blue Healer alumni."
The idea for the drive-thru ceremony came from the graduation planning committee in March when large events started to be canceled and the CDC recommended that gatherings larger than ten people stop to slow the spread of coronavirus.
The College had 99 graduates across ten majors for the April 2020 term and 84 were able to participate in the parade.