Cultural Exchange Club wins Student Leadership Award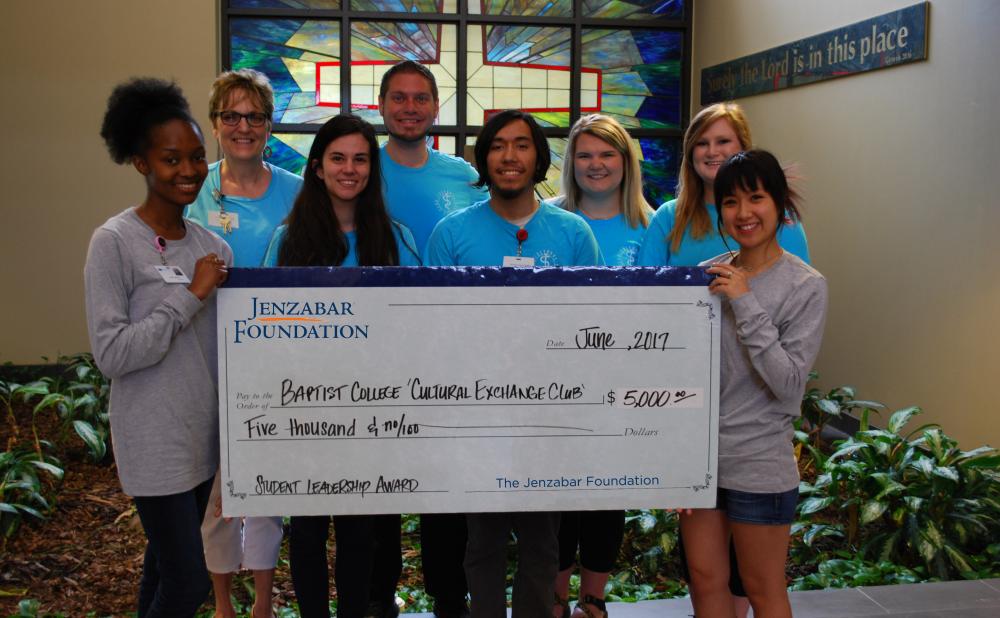 Baptist College's Cultural Exchange club recently won the Jenzabar Foundation's Student Leadership Award for 2017. The Jenzabar Foundation's Student Leadership Awards is an annual competition that recognizes student-led campus groups and projects that have made a significant contribution to better the world outside of their institutions of higher education.
The Cultural Exchange Club (CEC) has been involved in a number of initiatives this year that embody the characteristics cited in the nomination invitation. First, the Cultural Exchange Club has been actively involved in raising funds to support World Relief, one of nine voluntary agencies contracted by the Department of State to resettle refugees, which has an office in Memphis which serves approximately 200 clients a year. Through their services of refugee resettlement with housing and household items, employment services, and immigrant legal services, World Relief Memphis engages to assist families from Nepal, Somalia, Iraq, Afghanistan, Sudan, and the Democratic Republic of Congo in restarting their lives in Memphis.
The CEC also has collaborated with the Student Government Association in sponsoring the campus-wide showing of the film, "The Queen of Katwe" as a part of the college's Black History Month celebration in February. Additionally, the organization, along with the SGA, co-hosted a showing of "McFarland USA," which underscores the successes of a group of students not considered likely to excel, based on the stereotypes of their economic and cultural backgrounds.
The Cultural Exchange Club also brought together other organizations and coordinated a campus-wide Heart Health Fair, an initiative contributing to both personal and community health, featuring health screenings, providing education, and raising awareness in a range of health and wellness areas.
The efforts of the Baptist College Cultural Exchange Club align with both the mission and values of the college—specifically among these, becoming engaged learners, scholars and leaders in their chosen professions, creating a collaborative and supportive learning environment in which students are encouraged to develop intellectually, socially, and spiritually, and modeling servant leadership in all aspects of learning, teaching, service, and business—and exemplify and elevate the qualities demonstrated by the Jenzabar Student Leadership Award recipients selected previously. The members' hands-on engagement with the Baptist Health Sciences University community, and demonstration of their organization's and college's institutional goals, the broad representation of students from across the student body who are active members, and its focus and impact on the world around them contributed to this group winning the Jenzabar Student Leadership Award.