Meet our 2023 Presidential Ambassadors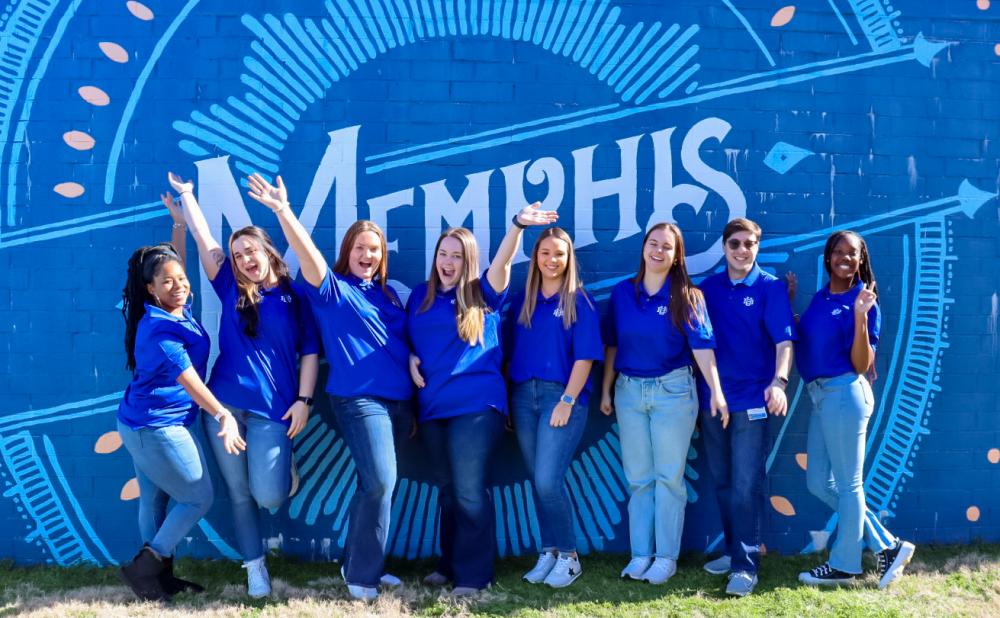 The 2023 Presidential Ambassadors of Baptist Health Sciences University (BHSU) have been announced. Due to the pandemic, the program was regrettably placed on hold, but the new Presidential Ambassadors have arrived and are bringing with them pride for the University. Jamecia Richardson and Amy Lofties, two admissions officers, contributed to the revival of this program.
"Bringing this program back is important because it gives our students the opportunity to be involved in a capacity to represent and uphold the standards of our university and President," said Lofties. "I am thrilled to be a part of reigniting this program with our students; myself being a former Presidential Ambassador, I know the pride you feel while being an ambassador and representing the university."
These individuals have the chance to effectively promote BHSU. They have the perfect voices and representatives to share their experiences because they are current students who have successfully negotiated the academic and social aspects of life as a student at BHSU. The University's ambassadors are a go-to organization consisting of individuals who are dedicated to highlighting the institution's advantages and positive qualities. They are asked to participate in student panels, speak with parents and prospective students, and typically always speak for the university.
"It is necessary for a program like this because our students are the heart of the University," explained Richardson. "We are preparing the next generation of health care workers to excel in leadership roles, exemplify professionalism, and care for one another. Our Presidential Ambassadors share their testimonies with high school students of their unique experiences at BHSU and encourage them to answer the call to heal, preach, and teach."
Learn more about our Presidential Ambassadors in their own words:
Grace B.
I am currently in my senior year of Nursing. I have had the opportunity to serve as an honor's student, as well as a Presidential Ambassador for BHSU. I am looking forward to graduating this April, taking the NCLEX exam and using the tools and skills that I have achieved these past 4 years. Currently, I am working as an Intern with Baptist Memorial Hospital and look forward to continuing my calling in nursing profession.
I feel as though I represent BHSU in the way I care for my patients and in the way I live my life. I contribute to BHSU culture by being an approachable resource for new students to help them navigate through their journey and to be an available resource for questions or assistance.
Kella O.
I am from a small community in Fairview, MS. I graduated high school from Tremont Attendance Center and I graduated from Itawamba Community College. I am a sophomore majoring in Diagnostic Medical Sonography (DMS). I have maintained a 3.3 GPA while working in the business office and at a boutique in my hometown on weekends. I try to get out and get involved with various things going on around campus. My goal is to graduate with a degree in DMS and maybe go back so I can teach sonography one day. 
I represent BHSU by being an involved student, keeping good grades, and being a positive role model and encouraging others I meet.
I plan to contribute to the BHSU culture by talking to students and telling them about my experience and how I got to BHSU. I also plan to help with creative ways to get students and prospective students involved in campus life and to be a positive and encouraging Ambassador for BHSU.
Michaela H.
I am a senior in my last semester of Nursing. I've been at Baptist for four years and it has been quite the journey. As nursing school is coming to an end, I plan to take my knowledge to the adrenaline side of nursing, the ED or Trauma. During my time here at Baptist, I have managed to become an honor student, presidential ambassador, and joined the first-generation community. Overall, I am just a free spirit that loves to give out good vibes and have a good laugh.
I feel like I represent Baptist because I am who I am and with confidence. Baptist educates their students to know what they need to know and more so that we are allowed to go anywhere with our knowledge and shine. Ultimately, I represent BHSU by being a product of them.
I plan to contribute to the BHSU culture through my great attitude, leadership, and relatability. With Baptist being a small community it's important that people feel okay and open to reaching out for anything that they may need or have a question. Along with providing guidance to those as they are transitioning into college or even just progressing through school or life.
Molly M.
I am a junior in the Diagnostic Medical Sonography program. My greatest accomplishments consist of becoming a presidential ambassador and going back to school for a second degree. My goal is to work as a travel sonographer and represent BHSU by showing that all types of students can succeed here. Going back to school at an older age, already having a bachelor's and working for a couple years just shows how much support BHSU gives its students to succeed.
I plan on contributing by giving back to the campus that has already given me so much. I want other students to know the great things we learn here.
Ryann S.
I graduated with my associate's degree in Neurodiagnostic Technology (NDT) in 2020 with BHSU and am now a senior, planning to graduate in the fall of 2023 with my bachelor's degree in Neurodiagnostic Technology. I have over five years of experience in patient care, and for the last year have been an EEG Technologist in the Epilepsy Monitoring Unit at Le Bonheur Children's Hospital. It has been my honor to represent the NDT program as the student representative for the past year.
I am passionate about higher education with a higher purpose. Not only do I bring a voice to the students of the NDT program, but I am also active in men in health care activities. I strive to represent multi facets of our student population.
I hope to help others find their calling at BHSU. Our blue healer family has the highest academic standards and program offerings. But we become a stronger family with shared participation in student activities and community service, as well as making sure student voices and concerns are heard.
Aja W.
Hi everyone, I am a sophomore Nursing student. I will begin my Nursing classes this fall, and I am very excited. I enjoy working with children, so I cannot wait to become a pediatric nurse. I represent Baptist because I am a motivated student. Everyone I have met here at Baptist has been either kind and helpful faculty/staff or very dedicated and hardworking students; I believe these are all important characteristics of being a Blue Healer. I am very happy I made the decision to transfer to BHSU.
By being a Presidential Ambassador I hope to represent my school to the best of my ability and encourage others to experience the great things being a Blue Healer has to offer.
Madison W.
I am currently in my senior year and will be graduating with my bachelor's degree in Nursing, April of 2023. My biggest accomplishment that I have achieved at BHSU is being selected as a Presidential Ambassador to represent the university.
My future goals for my nursing career include either working as an ICU or L&D nurse and to eventually dive into travel nursing and study forensic nursing. I also plan to receive my master's degree in the future.
I feel as if I represent BHSU because of my biggest personal qualities, which include leadership and dedication. Leadership is important to me because I live by the saying, "Be a leader not a follower." A leader can create their own path and establish a sense of accomplishment meanwhile a follower does not discover their own individual capabilities. The only time I would consider myself a follower is due based on my faith to pursue Christ but to be different from others we must be a leader. Leaders make change happen for a better tomorrow.
I am currently four years in the Nursing program, and I would not have come this far without the quality of dedication. Nursing is a calling for my life, and I have put numerous amounts of dedication into this journey, which makes me a determined individual to represent BHSU. I plan on contributing to the BHSU culture by helping lead others to Christ's calling for their lives. The health care field is a tough but rewarding field to be a part in and I would love to help others find a way to start that journey.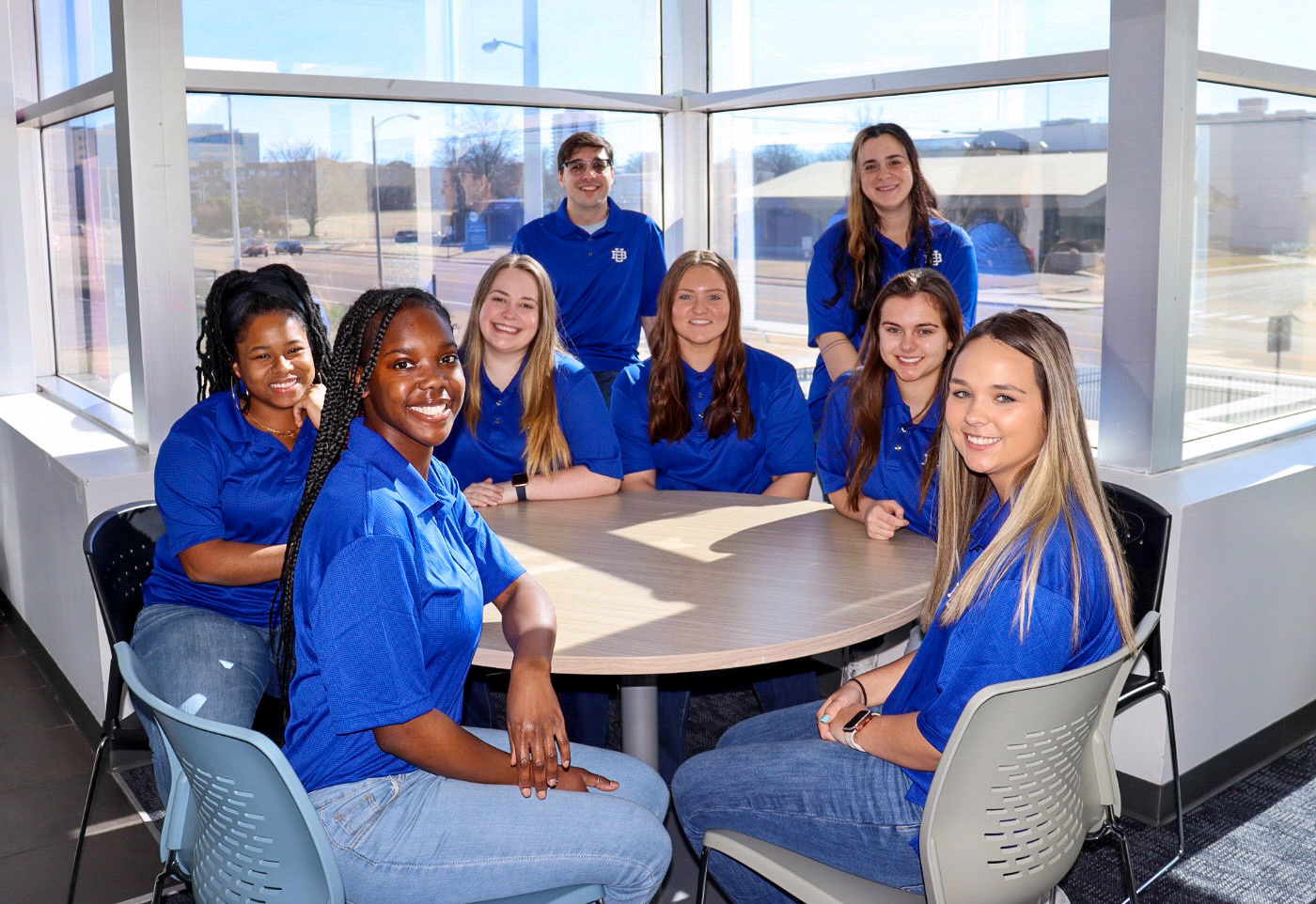 "The Presidential Ambassadors are a group of intelligent young women and men focused on becoming great healthcare professionals and inspiring others to do the same. They love BHSU, the faculty, and staff, and showing their blue healer pride." - Jamecia Richardson