Nursing looks a little different now than in the '40s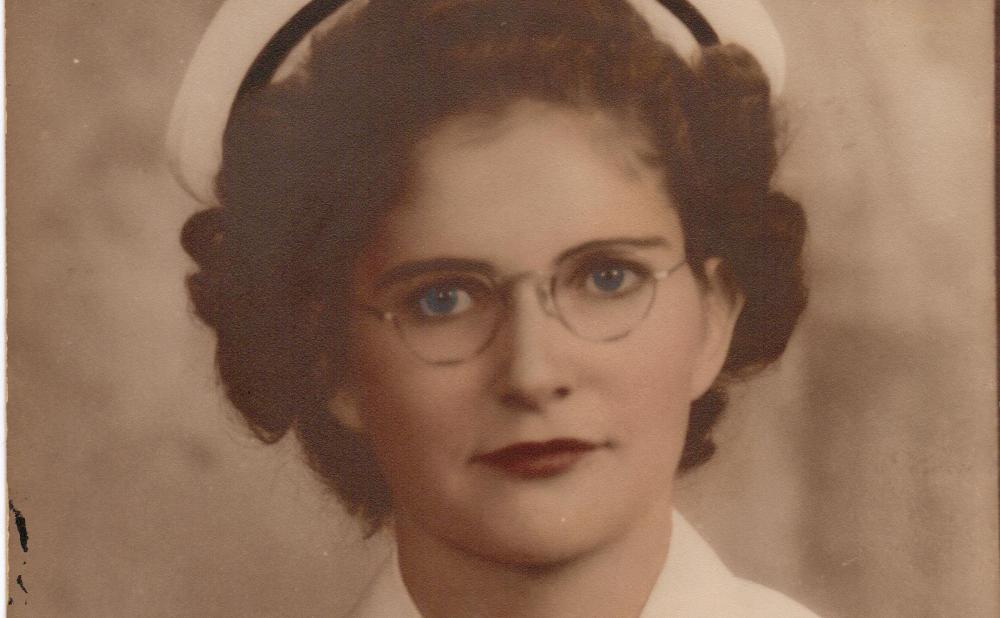 When Lois Billings Woods graduated from the then-Baptist School of Nursing in 1944, things were very different.  World War II was still ongoing and three years of tuition cost $86, including books, nursing uniforms and housing.
Woods has great stories and memories about her time at the now-Baptist Health Sciences University. In fact, she attended the ceremony when we became a College and the Baptist Memorial Health Care Centennial celebration in 2012, where she was the oldest graduate in attendance.
Woods is from Burlison, Tenn. where she graduated from Byars Hall High School.
After taking a gap year for, she entered the Baptist School of Nursing in 1941 entering the three-year nursing program. Students were required to live in the dorms for their entire time in school with a strict 10 p.m. curfew, work voluntary shifts at the hospital and maintain a dress code of dress and stockings even when not in class or working. Students were not allowed to be married or engaged while in school.
"Nursing school didn't allow for a lot of free time," explained Woods.
Woods used to walk to church at First Presbyterian or Bellevue Baptist with her friend, as the street car was too pricey for them to take both ways.
During her time, nurses didn't have specialties or focuses like we do now. They learned a lot of everything from labor and delivery, surgery, medicine and ENT while in the classroom and working shifts at the hospital.
While in nursing school, Woods met her husband who was a chef at the Peabody Hotel. She would take friends down to Peabody on occasion for meals he would prepare. Three months before Woods was set to graduate, she and her husband eloped in Marion, Ark.. She thought that her teachers suspected that she had gotten married, which wasn't allowed as a student, but no one ever questioned her.
After graduation, Woods worked as a private duty nurse which is similar to current in-home nursing except she often lived with the patients, then in a doctor's office and then at the VA Hospital located at Park and Getwell, where she worked until 1967. Her husband passed away the previous year and she had a young child, Charlotte, so the shift work of weekends and night wasn't conducive to child care. She does have good memories of her time at the VA Hospital though.
"Patients stayed in the hospital a lot longer then, so they became friends, family almost in some cases," said Woods.
Charlotte, her daughter, remembered her mom bringing home patient family members' laundry. She even took her own television up to the hospital so that patients and their families could watch the World Series one year.
After leaving the VA, Woods worked at the US Army Corps of Engineers as an Occupational Health Nurse then moved to The Memphis Defense Depot in the Employee Health Clinic. While at the Memphis Defense Depot, Woods was commended by the Colonel for her outstanding work and responses during emergency situations. 
When she retired, Woods worked as a travel nurse for American Contract Bridge League tournaments. Each state has a different licensing body for nursing, but Woods was able to practice in the states where tournaments were held, which she attributes to the training from Baptist School of Nursing.
When asked what she would say to current nurses, Woods said "Don't forget you are there for the patients; it's about caring for the sick."
Thank you, Lois, for your wonderful story. Alumni, you can read this article again the next Alumni News magazine.