BHSU Hosts the Inaugural Tennessee Health Careers Summit & Expo for West Tennessee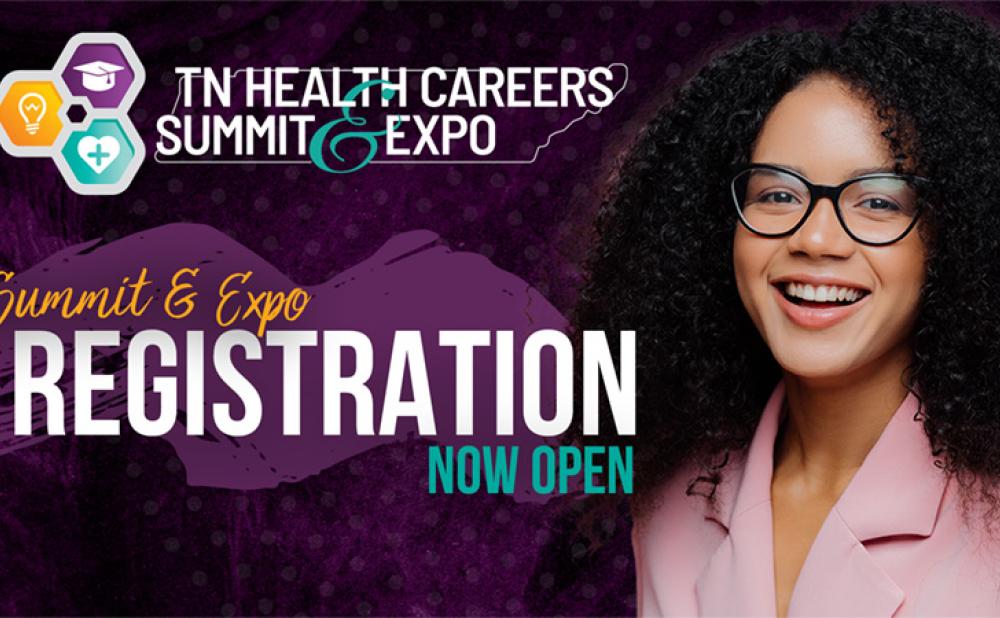 Students, parents and advisors are invited to attend the inaugural Tennessee Health Careers Summit & Expo on Saturday, Nov. 12 from 8 a.m. until 1 p.m. at Baptist Health Sciences University in the Campus Hub Building. The free event includes breakfast and lunch. Virtual attendance is also an option.
Sponsored by Baptist Health Sciences University (West Tennessee host), Baptist Memorial Health Care, Meharry Medical College (Central Tennessee host) and East Tennessee State University College of Medicine (East Tennessee host), the Tennessee Health Careers Summit & Expo is a wonderful opportunity for middle school, high school and college students to learn more about health professions and health-related careers. The East Tennessee event will be held on Nov. 15.
The Tennessee Health Careers Summit & Expo aims to help address the critical need for more health care workers in Tennessee. Health occupations are one of the fastest growing jobs needs in the state. Through 2030, Tennessee is projected to have shortages in labor supply for primary care and behavioral health.
Click here to register for this free event by Friday, Nov. 4, and receive a T-shirt at the event. You may also register until Friday, Nov. 11, but T-shirt availability isn't guaranteed.
At the Tennessee Health Careers Summit & Expo, participants can:
Meet and network with health professionals and learn more about health programs.

Listen to a keynote panel of Tennessee health leaders. One of the keynote speakers is Zach Chandler, executive vice president and chief strategy officer at Baptist.

Participate in breakout sessions to build skills and knowledge for health care professions. Subjects include surgical technology, radiation therapy, nuclear medicine, laboratory sciences, biomedical sciences and mobile health care. Most breakout sessions are led by volunteers from the BHSU faculty.

Engage in a statewide service project to honor and celebrate U.S. military veterans and active-duty personnel and the health professionals who serve them. The service project is led by Derick Ziegler, vice president of West Tennessee Market and affiliate integration at Baptist, and Hein Thu Nguyen, assistant director of VA Memphis Healthcare System.
Virtual attendees will receive a link via email to connect to the keynote address. Virtual breakout sessions for parents and students are available on Nov. 12 from 11 a.m. until noon. Registration is required.
The statewide planning committee chair for the event is Briana J. Jegier, PhD, program chair and associate professor, Health Administration and Public Health at BHSU.
Statewide planning committee members include Dr. Michelle McDonald, dean of General Education and Health Studies at BHSU; Cynthia Bradford, system community involvement manager at Baptist; Abby Brann, system community involvement coordinator at Baptist; Natassah Chipman, academic operations coordinator at BHSU; Erica Johnson, director of admissions at BHSU; and Jennifer Martinez, administrative director at Baptist Women's Health Center.
The Tennessee Health Careers Summit & Expo was created by Tennessee HOSA-Future Health Professional (TN HOSA) in partnership with the Tennessee Area Health Education Center (TN AHEC) as an educational and service event to celebrate International HOSA Week and the U.S. National Health Professions Week, both observed in November. TN AHEC is the virtual participation sponsor for the event.
Visit https://www.tnhosasummit.com to learn more about the Tennessee Health Careers Summit & Expo, register to attend or sign up to volunteer. Learn more about sponsor opportunities at http://www.tennesseehosa.org.
If you have questions about the event, please contact Dr. Briana J. Jegier at Briana.Jegier@Baptistu.edu or call 901-572-2528.